06/09/2013
Issues & Leaders With Don Longo: Scott Hartman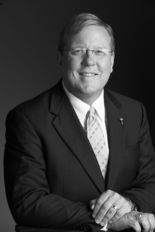 Scott Hartman
YORK, Pa. -- Who are the authorities on the future of the convenience store industry and what can you learn from them? In this series of exclusive one-on-one interviews with c-store industry leaders, Convenience Store News Editor-in-Chief Don Longo explores the more important trends and issues facing the convenience store industry.
This month, Longo interviews Scott Hartman, CEO of York, Pa.-based Rutter's Farm Stores, a family-owned company with 58 convenience stores in the Mid-Atlantic states. A former chairman of NACS, Hartman won the CSNews Top Tech Executive Award in 2009 and was recently inducted into the PCATS Technology Hall of Fame. His company also earned a CSNews Spirit Award for Community Outreach in 2009 and was named Foodservice Retailer of the Year in CSNews' inaugural Foodservice Innovators Awards program last year.
Longo: What do you consider to be the most important trends influencing retailing today?
Hartman: Several that come to mind are:
The stressed consumer. The economy remains weak and many of our lower-end wage customers are exceptionally stressed in their pocketbooks. They are looking for better deals and are more price conscious than ever. Value meals and dollar offers will continue to be important trends not to ignore.
 
Reward programs will continue to grow their presence in gasoline marketing, as well as inside the store. This trend plays well off of my point above.
 
Mobile payment is on the cusp of becoming relevant in our channel. Many quick-service restaurants (QSRs) are doing it or testing it. We are a more technologically complex format than QSRs, but we will be forced to adapt to compete with the mobile payment preference sooner than many might like.
 
Touchscreens everywhere for customer engagement. Mobile phones, iPads, food ordering kiosks, etc. People just like touchscreens, and more and more uses will pop up in our stores and the way we "touch" our customers.
Longo: Please comment on the most important issues relating to the convenience store industry and how these specifically impact Rutter's?
Hartman:The resolution of the Visa/MasterCard class-action settlement will have a large financial impact on our stores both short-term (settlement monies) and long-term (limiting fee increases). The federal health care mandate may be the biggest tax our industry and my company have ever experienced. I think 2014 will be an enlightenment year for most Americans as they realize the word "affordable" was misused in naming the health care act. Profound changes are about to take place for our employees, our bottom line and the economy.
I sincerely doubt that most Americans have a grasp on the far-reaching implications that are about to happen. I anticipate the economy will hit a wall in 2014 that might match 2007. The health care mandate, combined with the Fed trying to unwind itself out of the box it created for itself, are two very troubling issues that may cause a multiyear, downward draft on our sales and profits. An economic correction in the least and another Great Recession No. 2 are likely outcomes.
Longo: What other trends are impacting Rutter's and how are you responding to them?
Hartman: The fuels business is changing in so many ways. The biofuel mandates are just the tip of the iceberg. RINS (renewable identification numbers) are having major impacts on retailer margins that have them from blending, and those that do not. We've never been so glad to be a blender. CNG (compressed natural gas) is an issue that will grow in the few next years. CNG vehicle growth is inevitable. How fast and where it will grow will determine so much about what our store forecourts will look like five years from now. Gas mileage in vehicles is increasing and the result is lower demand for gasoline. We continue to change our fuels offer to compensate for the changing consumer demands.
Longo: The challenge to build closer connections with shoppers is a mandate before all retailers today. How have you traditionally marketed Rutter's offerings to consumers and what's different about how you do it now? How are you building customer loyalty today?
Hartman: Billboards, radio and newspaper were key methods for a long time to communicate with our customers. These methods still have their roles, but they will be decreasing as part of our plans for the foreseeable future. We have had a loyalty program for four years and it continues to evolve and morph. Combined with our mobile and social media platforms, these are an effective competitive set of tools to compete with our less technologically savvy competitors. These building blocks we have put in place should serve us well for many years to come.
Longo: Please discuss the role manufacturers play in today's convenience store industry and how has the retailer-supplier relationship evolved over the past five years? How is it likely to change in the next five years?
Hartman: I'd like to think that suppliers are becoming more accepting of true category management. It is always an uphill battle with some categories, but as the suppliers expand their product lines (e.g. tobacco companies entering the e-cigarette business), the need for them to see the light in order to get space for their new product lines is beginning to sink in. Retailers are obtaining more and more consumer-specific data that is the most current and best data that suppliers can get their hands on. As we build our relationships around sharing this data, we find that sales and profits increase for us and our supplier partners. Data sharing will grow considerably over the next few years.
Longo: What role will alternative fuels play in the future of the c-store industry?
Hartman: CNG has the biggest opportunity. It really is a new fuel vs. just a replacement product for something we already sell. It is still in its infancy, but will play a role at many stations of the future -- just like diesel has grown in prevalence.
Longo: Switching gears, what are the foremost non-industry specific retailing issues that are on your mind?
Hartman: The health care mandate is clearly No. 1. How employees are scheduled (over or less than 30 hours) and its impact on the retail workforce will be very dramatic. Mobile payment will also affect all retailers. We must look at its evolution similar to credit cards 30 years ago. It will overtake cash and plastic sooner than most everyone thinks.