Jiffy Mart Completes Remodel as Part of County Project
WESTMINSTER, Md. -- As part of a countywide Gateway Improvement Program, Jiffy Mart completed a remodel of its Finksburg, Md., store to enhance customers' shopping experience. New features include a brighter store design with new décor and ceiling; energy-efficient LED lighting; an upgraded restroom with hands-free amenities; an expanded Anytime Café offer; hot and cold beverage centers; and a hot food island. Central Pennsylvania-based Exhibits/Graphics/Interiors (EGI) partnered with Jiffy Mart on the remodel.

"The Gateway project of Carroll County, Maryland was established to encourage eligible property owners to visually enhance their properties," said Dwayne Cover, Jiffy Mart's business manager. "Our store is the last stop before leaving the county and the first stop coming into the county along the Route 140 highway, so we thought this was a great fit for us."
Inside the store, the beverage canters highlight Jiffy Mart's new coffee program and also include f'Real milkshakes and smoothies, fresh-brewed iced tea, iced coffee, ICEE frozen-carbonated drinks and traditional fountain carbonated drinks. In addition, the hot food island now offers a wider variety of hot sandwiches, a Tornado grill and a microwave for customer use.
Major changes also took place outside the store, as Jiffy Mart remodeled the building's exterior, staining the block a brick color and replacing all exterior lighting. Later this spring, the company plans to resurface the parking lot and enhance the site's landscaping.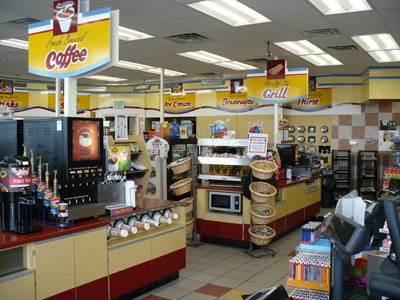 "This was our oldest facility and did not look like our other stores," said Tom Moser, general manager of Jiffy Mart. "We are pleased the exterior now looks like a Jiffy Mart, yet still has its own unique look. EGI did a great job in helping us put our vision into a plan."
Jiffy Mart, a division of Tevis Oil, will continue to renovate all of its stores. Its Hampstead, Md., location will receive an interior upgrade as the chain's next project.