Jiffy Mart Donates $3,000 to Carroll Hospital Center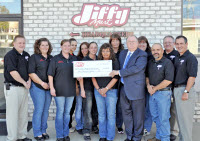 WESTMINSTER, Md. -- Jiffy Mart recently donated $3,000 to Carroll Hospital Center as part of the "Pump up the Health in Carroll County" campaign. Jiffy Mart's management team was on hand to present the check to John M. Sernulka, FACHE, president and CEO and Ellen Finnerty Myers, CFRE, chief development officer and vice president of community affairs, at their headquarters located here.
"Carroll Hospital Center is our local hospital and an integral part of our community," Tom Moser, Jiffy Mart general manager said in a released statement. "We like to give back to our communities whenever we can, so the hospital just seemed like the obvious place to donate."
The campaign took place during the month of October where community residents donated $1 or more at any Jiffy Mart gas station in Carroll County, Maryland; residents then had their names placed on a list that was displayed within the store. During the campaign Jiffy Mart employees held a friendly competition with other Jiffy locations to raise the dollar amount of the donation; the campaign was so successful that many locations had trouble finding room on the displayed lists for contributors names, the release stated.
The campaign launched thanks in part to Jiffy Mart employees who suggested the fundraiser as part of the company's philanthropic efforts for the community. Carroll Hospital Center was chosen as the local organization to receive the proceeds because of its importance within the Carroll County community, the release noted.