Keep America Beautiful & NACS Create Trash Management Guide for C-store Industry
Get great content like this right in your inbox.
Subscribe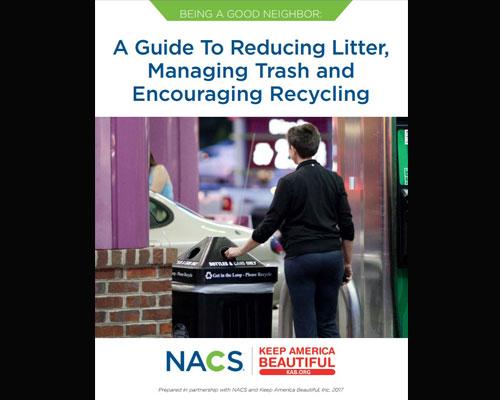 ALEXANDRIA, Va. and STAMFORD, Conn. — NACS, the Association for Convenience & Fuel Retailing, and Keep America Beautiful have come together to produce a new resource for convenience store operators: "Being a Good Neighbor: A Guide to Reducing Litter, Managing Trash and Encouraging Recycling."
The guide provides operators with quick and easy tips to improve their customers' experience, help the environment and ultimately enhance their reputation and bottom line, the associations stated.
"Being a Good Neighbor" includes information from Keep America Beautiful's Litter in America research from 2009 — comprised of the National Visible Litter survey and Litter Cost Study — as well as from jointly developed consumer and retailer surveys and audits conducted this year by NACS and Keep America Beautiful.
The guide includes a checklist to examine litter management practices at c-stores, as well as practical tips to help retailers reduce and subsequently eliminate litter in and around their stores. It also includes recommendations for recycling bin and trash receptacle placements to help make proper disposal of packing items easy and accessible. This will allow retailers to share techniques that engage employees, customers and the community, according to the associations.

"With convenience stores comprising 34 percent of all retailer business, convenience store operators can play an instrumental role in providing customers with convenient trash and recycling containers to lessen litter and improve recycling at their locations," said Brenda Pulley, Keep America Beautiful's senior vice president, recycling. "Keep America Beautiful is pleased to team up with the NACS to provide best practices for managing trash and recycling with the new 'Being a Good Neighbor' guide."
According to Keep America Beautiful research, trash is mostly disposed of properly in receptacles. However, nearly one in five (17 percent) ends up as litter, and packaging — including fast food, snack, beverage and tobacco packaging — comprises nearly half (47 percent) of items in the "visible" litter stream.
NACS research also shows that consumers overwhelmingly say that c-store appearance is important: 84 percent of consumers fueling up say cleanliness of the store is an important factor when considering whether they will stop at a particular store.
"Litter impacts how people perceive your brand, even if they litter a cup with your logo on it somewhere else," said Lisa Dell'Alba, president and CEO of Square One Markets. Dell'Alba is a member of the NACS Board of Directors and was one of many retailers surveyed for the guide.
NACS State of the Industry Data has also found that c-stores spend more than $600 per store per month for recycling and trash collection programs, or about $1.3 billion industry-wide on an annual basis. The payoff is worth the expense, as c-stores continue to grow their foodservice sales, which climbed 12.9 percent to $49 billion in 2016.
"Keep America Beautiful has been the nation's steward for litter prevention for nearly 65 years. We recognize that foodservice and product packaging is a significant part of the litter stream, and we're pleased to partner on this guide to help convenience stores and their customers reduce litter. It's good for the environment and good for the community, and ultimately good for business because consumers support businesses that support the communities they serve," said NACS Vice President of Strategic Industry Initiatives Jeff Lenard.
To access "Being a Good Neighbor: A Guide to Reducing Litter, Managing Trash and Encouraging Recycling," click here.