08/17/2018
Kroger Tests Self-Driving Delivery Vehicles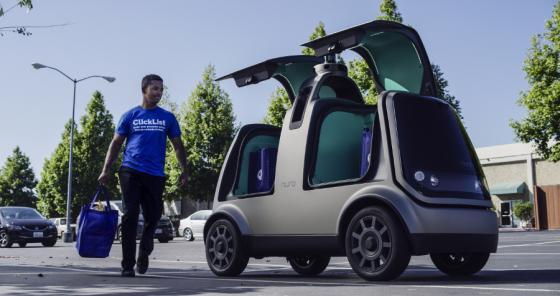 CINCINNATI — The Kroger Co. is going full steam ahead with its plans to pilot a grocery delivery service using autonomous vehicles.
Kroger announced earlier this week that it would be testing its autonomous vehicle grocery delivery program in Scottsdale, Ariz., reported Convenience Store News sister publication Progressive Grocer.
The self-driving cars were developed by Nuro. Kroger banner Fry's Food Stores will build the orders.
Scottsdale residents will be able to shop for their groceries through Fry's Food Stores' website and mobile app. The orders can be scheduled based on slot availability for same- or next-day delivery. There's a $5.95 flat fee per order, and no minimum order requirement. 
"Kroger wants to bring more customers the convenience of affordable grocery delivery, and our pilot with Nuro will help us test and learn to understand customer acceptance of autonomous vehicles in our seamless offering," said Kroger Chief Digital Officer Yael Cosset. "We thank Arizona Gov. Doug Ducey, Scottsdale Mayor Jim Lane and the Scottsdale community for being terrific partners and for supporting customer-focused innovation."
Mountain View, Calif.-based Nuro will begin the pilot using its self-driving Toyota Prius fleet, introducing its custom R1 driverless vehicle this fall.
Cincinnati-based Kroger operates 2,800 retail food stores under a variety of banners. 
Convenience Store News and Progressive Grocer are properties of EnsembleIQ.