Kum & Go Inks Deal for Two Iowa Stores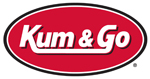 WEST DES MOINES, Iowa -- Kum & Go is adding two locations to its stable of convenience stores. The deal to acquire the two JC's Corner Stores in central Iowa is slated to close at the end of this month.
The acquisitions involves a JC's c-store at the corner of 35th Street and E.P. True Parkway in West Des Moines and another at the corner of 86th Street and Meredith Drive in Urbandale, according to the Des Moines Register.
Upon completion of the deal, the stores will be renovated and rebranded with the Kum & Go name. To date, Kum & Go owns more than 430 stores across 11 states.