Kum & Go Makes Inc. Magazine's 5000 List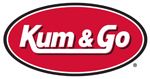 WEST DES MOINES, Iowa -- For the second time, c-store operator Kum & Go made Inc. magazine's Inc. 5000 list, a list that ranks the 5,000 fastest growing, privately held companies.

Kum & Go was ranked No. 4,582 out of 5,000, The Wyoming Business Report stated.

"We are excited to be selected to the Inc. 5000 for the second straight year," said Kum & Go President & CEO Kyle J. Krause, attributing the company's good showing to "our dedicated associates and loyal customers."

Rankings for the Inc. 5000 annual list, currently in its fourth year, are based on the percentage increase in revenue over the previous three years for private companies active for a minimum of four years, The Wyoming Business Report stated.

Kum & Go operates more than 435 c-stores in 11 states throughout the Midwest. Established in 1959, the chain now employs more than 3,800 people and has become the 22nd largest c-store chain in the United States.