Kum & Go Opens New Store in Sioux City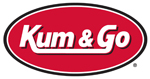 SIOUX, Iowa -- Kum & Go recently opened a larger store at 14th and Pierce streets, replacing a smaller, adjacent store. The new store was built on the site of an old apartment building demolished last year, SiouxCityJournal.com reported.
Attending the grand opening, ribbon-cutting celebration were Kum & Go senior vice president of operations Steve Kimmes, division vice president Mike McGuire, the new store's district manager Al Schwarz, Mayor Mike Hobart and city economic development director Marty Dougherty. During the weekend celebration the Kum & Go location offered customers free 32-ounce cups of fountain soda and pizza slices for $1, the Web site reported.
In recent years, the West Des Moines-based c-store chain opened a number of new, larger sites in the area. Kum & Go, the third largest privately owned operator of c-stores, currently operates more than 400 convenience stores in 11 states, and employs more than 3,600 associates.