Kum & Go Seeks Buzz, Sales Bump from Cup Contest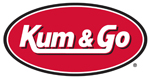 WEST DES MOINES, Iowa -- Voting ended this weekend in Kum & Go's "Name Our Cup Contest," a marathon exercise built around democracy, social media and 59-cent soda pop, according to a report by the Des Moines Register.

If the election works out as Kum & Go's Vice President of Marketing Kevin Krause hopes, the convenience store chain will have been able to capture public attention, build a database of 30,000 active voters and discover a broadly appealing winner that everyone adores.

Executives at the West Des Moines-based convenience store chain said more than 30,000 people have cast votes since the voting began May 1. Combined, Kum & Go customers submitted more than 18,000 unique names for its 32-ounce beverage container. The top five, which have been up for a second round of voting since July 1, had drawn about 20,000 votes as of last week.

Krause described the "Name Our Cup" contest as a multipronged effort to boost fountain drink sales, build summertime buzz about the stores and expand Kum & Go's online community.

The contest "has a lot of layers," he told the newspaper. "We didn't want to do this with a singular focus. Our goal was really to accomplish a lot of different things with this program, and we're happy with the results so far."

The results, according to Krause, include "tremendous growth in our customer count, exceeding what we've had for fountain sales the last two years."

The election includes a summer-long price of 59 cents for 32-ounce soft drinks, plus a requirement that customers make at least one purchase at a Kum & Go for every vote cast. (Voting at nameourcup.com requires entering a 12-digit code from their store receipt.)

Kum & Go also requires contest participants to give their name, address and, optionally, their e-mail address -- for which the company promises to send valuable coupons in the future.

Although the polls closed Saturday, Kum & Go won't officially announce a winner until September. At that point, the new cup will be officially installed in its more than 460 convenience stores, and one of the people who submitted the winning name -- there were multiple submissions for most of them -- will be chosen to receive the $10,000 prize

"What we'll work on in August is to get the cup designed," Krause said. "We've committed that, certainly for the remainder of 2010, that this will be our cup name."

Even if the Kum & Go staff ends up hating it. "If one of our people here doesn't like something, that doesn't mean that 10 of our best customers don't like it," he noted.