Kum & Go Sets Out to Be No. 1 in '21
WEST DES MOINES, Iowa -- Kum & Go LC's late co-founder W.A. "Bill" Krause had a favorite saying: "Don't look back…we're not going that way."
Today, under the leadership of his son and current CEO Kyle Krause, the 423-store convenience retailer based in West Des Moines, Iowa, appears to be forging full speed ahead, while keeping its feet grounded firmly in the values and disciplines instilled by the elder Krause, who passed away June 19 at the age of 78.
Kum & Go is the focus of this year's Convenience Store News "A Day in the Life" special report, which will appear in the August issue. While visiting the chain's Store Support Center, the junior Krause told CSNews that the company is moving ahead with new strategies and tactics that differentiate the c-store retailer from its competition and put it on course to meet the company's goal to be "No. 1 in '21."
Being No. 1 in '21 doesn't mean being the biggest, most profitable or highest volume c-store chain in the nation, Krause explained. "We want to be the best in the industry. We are doing a lot of things well, but we have to keep improving to get to where we want to be," he said. "We want to be a great company – doing the right thing for our communities, our customers and our associates."
To achieve that goal, the company is continuin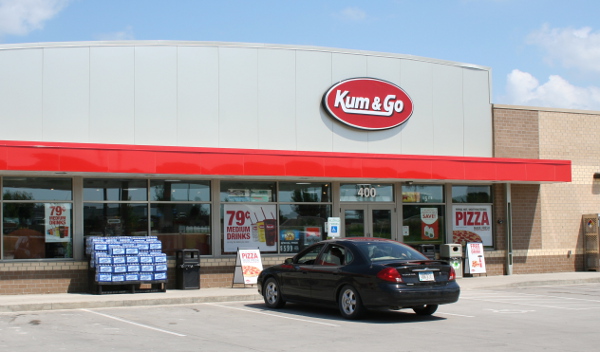 g its shift from an acquisition growth model to a new-build model. "We built 43 stores last year – twice as many as in any other year in our history," the chief executive said.
Krause explained that the retailer's growth going forward will be focused on opening newly built, 5,000-square-foot stores in metropolitan markets. These "5K" stores will feature the retailer's new foodservice concept, "Go Fresh Market." Stores that cannot accommodate the most important features of the 5K concept will continue to be divested.
In 2004, Kum & Go set a goal of building 20 to 30 stores per year. Last year, along with the 31 new-build stores and 12 rebuilt stores, the retailer sold 31 units that didn't fit its new growth strategy. This year, Kum & Go expects to build 12 new stores and rebuild nine stores, while other stores that don't fit the strategy continue to be evaluated.
However, since the 5K stores are much bigger than the ones being closed, Kum & Go has been adding tons of new store space over the past several years. Since Jan. 1, 2012, the company has added 122,670 net new square feet of retail space, after subtracting for divestitures.
The 5K stores also enable the retailer to take foodservice to a whole new level. "We've sold pizza for 27 years," Krause pointed out, "but now we're doing it with consistency and diligence."
In addition to the growth in sales generated by the 5K new-builds, Kum & Go is reaping the benefits of installing the Go Fresh Market foodservice program in existing stores. New foodservice menu items, such as chipotle wraps and hash brown sticks, continue to be added as Kum & Go raises the bar on what consumers expect from convenience foodservice.
For more on Kum & Go's journey to become No. 1 in '21, including exclusive reports on its changing corporate culture, sustainability efforts, and talent management and career development initiatives, look for the August issue of Convenience Store News.