Kwik Trip Fuels Executive Wins Growth Energy's Highest Honor
Get great content like this right in your inbox.
Subscribe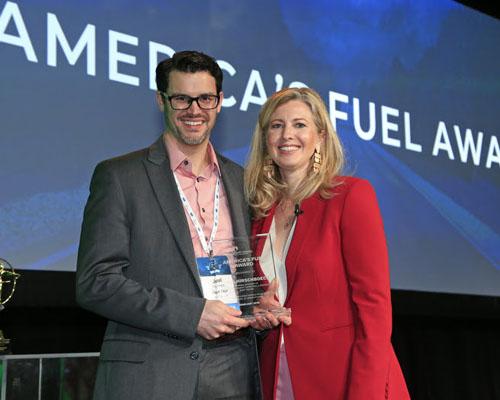 BOCA RATON, Fla. — Kwik Trip Inc. has become a convenience store leader in alternative fuels, and its general manager of fuel marketing and procurement has been recognized for his work in the area.
Growth Energy awarded its highest honor, the America's Fuel Award, to Kwik Trip's Joel Hirschboeck at the association's ninth annual Executive Leadership Conference (ELC) on Feb. 8 in Boca Raton.
According to Growth Energy, the annual award is presented to an individual "who has gone above and beyond the call of duty to act as a champion for the renewable fuels industry."
Past winners include former U.S. Secretary of Agriculture Tom Vilsack, Growth Energy co-chairman Tom Buis, Ambassador Terry Branstad, retired four-star General Wesley Clark, and Richard Childress of Richard Childress Racing.
"We are thrilled to recognize Joel with the America's Fuel Award in recognition of his guidance, vision and positive impact on the growth of the entire biofuels industry. Under his leadership, Kwik Trip rolled out 300 E15 sites in just four months and ushered in a new model for expansion," Growth Energy CEO Emily Skor said.
"We are forever grateful for his dedication, and we present this award as a token of our appreciation," she added.
Growth Energy also presented the following individuals with TOBI awards, given each year to Growth Energy members who exhibit innovation, fortitude, perseverance, and leadership within the biofuels industry:
Paige Donnelly, public engagement manager, Novozymes

Gunner Greene, chief operating officer/general manager, Iroquois Bio-Energy

Brian Schasel, environmental/technical manager, Big River Resources

Jerry Tegels, ethanol business development manager, Buckman

Steve Walk, chief operatingofficer, Protec Fuel Management

Rob Walther, vice president of federal advocacy, POET
Growth Energy's ELC brings together biofuels leaders and supporters to discuss current issues and successes while celebrating achievements of the industry.
La Crosse, Wis.-based Kwik Trip is a family-owned company with more than 400 convenience stores across Wisconsin, Minnesota and Iowa. It also operates its own bakery, commissary, dairy, distribution warehouse and vehicle maintenance divisions.
Based in Washington, D.C., Growth Energy represents producers and supporters of ethanol working to bring consumers better choices at the fuel pump, grow the U.S. economy and improve the environment for future generations.