Love's Finishes 2017 With Three Dozen New Locations
Get great content like this right in your inbox.
Subscribe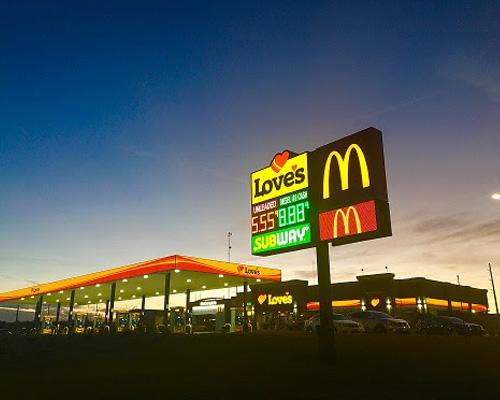 OKLAHOMA CITY, Okla. — In January, Love's Travel Stops said the company was going to be busy in 2017. It wasn't kidding.
This week the retailer capped off a year of expansion with the opening of a store in Troy, Texas.
The new Love's offers a Love's Truck Tire Care center, 114 truck parking spaces, and seven showers. The facility also features McDonald's and Subway restaurants, a game room, laundry capabilities, and traditional convenience store offerings.
The latest site brings this year's new store count to 36, including eight in December. Love's also added approximately 2,600 new truck parking spaces to the nation's interstates and highways this year.
"2017 was an active year for Love's at the store level and beyond," said Frank Love, co-CEO of Love's. "We opened 36 new locations, all of which were built from the ground up, entered into the state of Montana and acquired Speedco, a well-known company serving the trucking industry. We're providing for customers in new ways and in more areas than ever before."
With the new locations came new services. Love's added 190 showers at new travel stops and nearly 40 locations now offer public laundry services. All new travel stops offer amenities such as showers, truck parking, diesel exhaust fluid, and quick-service restaurants.
Along with the notable growth came Love's entry into its 41st state with its travel stop in Hardin, Mont.
Love's also added to its maintenance and service offerings in 2017. This fall's acquisition of Speedco, a national network of service locations that provides quick lube and inspection services to the trucking industry, added 52 locations to Love's tire care network.
Love's Truck Tire Care added 19 new locations, bringing the total number of truck tire care and Speedco locations to more than 320.
Oklahoma City-based Love's Travel Stops & Country Stores more than 440 locations in 41 states.