05/23/2018
Love's Travel Stops Debut New GasBuddy Mobile Payments Service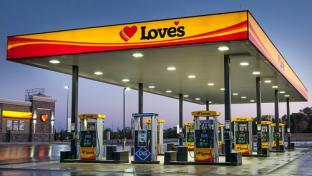 OKLAHOMA CITY —  GasBuddy and Love's Travel Stops hope to change the way U.S. consumers purchase gas with the launch of a new mobile payment partnership.
On Tuesday, GasBuddy announced that consumers will be able to pay for their gas through the GasBuddy app at all Love's locations. The Oklahoma City-based convenience store and fuel retailer has more than 450 locations across a 41-state footprint. 
The new mobile payment feature is an expansion of Boston-based GasBuddy's Pay with GasBuddy card program that launched in September. It enables users to pay at Love's pumps from their vehicles —  while also enjoying the cost-saving advantages of Pay with GasBuddy's fuel savings program. E-receipts show users the details of each transaction, including the GasBuddy discount.
"Mobile payments are no longer a 'nice-to-have' in our business, but an essential part of our customers' experience," said Dave Frankenfield, vice president of marketing at Love's. "Love's is thrilled to expand our long-standing, trusted partnership with GasBuddy through the Pay with GasBuddy program to add even more convenience and value at all of our locations."
GasBuddy doesn't plan on stopping at the partnership with Love's. The company expects to roll out its new mobile payments program at other fuel retailers in the near future.
By the end of 2018, it predicts feature usability will reach 20 percent of gas stations in the United States.
"Every day, millions of drivers open the GasBuddy app even before turning on their car engine to decide where to buy fuel," said Sarah McCrary, CEO of GasBuddy. "Our mobile payments feature enables customer-centric retailers like Love's to own the entire customer dialogue, from pre-trip to the pump and beyond."