Love's Travel Stops Sets $830,000 Fundraising Goal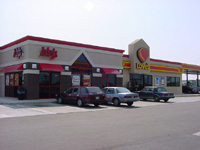 SALT LAKE CITY -- Love's Travel Stops & Country Stores launched a fundraising campaign Aug. 27, to raise $830,000 for Children's Miracle Network, a children's charity that raises funds for more than 170 pediatric hospitals.

To raise money, Love's is asking customers to purchase a $1, $5 or $25 Miracle Balloon icon, or by donating their spare change in canisters located inside the c-stores. Customers are also encouraged to participate in local fundraising events hosted by Love's employees, such as auctions, raffles, hot dog or bake sales or car washes, the company stated.

"Love's national presence allows us to donate directly to Children's Miracle Network hospitals in nearly 90 markets, which makes our annual campaign a great fit," Jenny Love Meyer, Love's director of communications, said in the statement. "We know our customers appreciate that the money they donate goes directly to their local Children's Miracle Network hospital." He said: "In a struggling economy, it's inspiring to see the continued spirit of giving from our customers as well as the time and effort our store teams contribute."

The four-week campaign will end Sept. 30, and will fund medical care, research and education. Love's has been a partner of Children's Miracle Network since 1998, and to date, has raised more than $3.5 million.