Marathon Oil Names New Chief Procurement Officer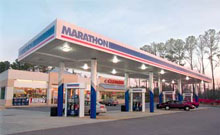 HOUSTON -- Marathon Oil Co., a wholly owned subsidiary of Marathon Oil Corp., named Michael W. Tweedy as the company's new chief procurement officer, effective Aug. 23. He will be responsible for managing all aspects of Marathon's global procurement activities.

Tweedy succeeds Pamela K. M. Beall, who recently was appointed vice president of products supply and optimization for Marathon's downstream operations. He will be based in Houston, and report to Gary R. Heminger, executive vice president, downstream, and president of Marathon Petroleum Co. LLC, according to a news release issued by the company.

"Mike's more than 30 years of advanced supply chain and exploration and production experience, as well as his deep understanding of the oil industry and global procurement leadership abilities uniquely qualify him for this position, which plays a key role in the successful execution of Marathon's plans and strategies," Heminger stated. "We welcome Mike to Marathon and look forward to the many contributions he will make toward our company's success."

Tweedy graduated from Montana College of Mineral Science and Technology with a bachelor's degree in petroleum engineering in 1980. He earned an advanced certificate of supply chain management from the W.P. Carey School of Business at Arizona State in 2006.

He began his career at Phillips Petroleum with production, petroleum and drilling engineering assignments ranging from North Dakota and Colorado, to California, Alaska and the Ivory Coast, among other locations. Beginning in 1984, he joined Chevron where he worked for approximately 25 years and held successive operations positions of increasing responsibility, as well as numerous procurement roles both domestically and internationally.

Since 2008, Tweedy has been employed by BHP Billiton as that company's global supply manager for drilling and exploration.