Marathon Petroleum Awarded for Increasing Energy Efficiency
Get great content like this right in your inbox.
Subscribe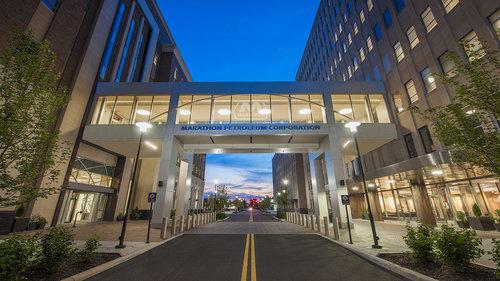 FINDLAY, Ohio — Marathon Petroleum Corp. (MPC) has been recognized for its internal focus on energy efficiency.
MPC has received the 2018 Energy Star Partner of the Year Award for its outstanding efforts to increase energy efficiency throughout its business, particularly in its petroleum refining system.
MPC's accomplishments will be recognized by the U.S. Environmental Protection Agency (EPA) and the U.S. Department of Energy at a ceremony in Washington, D.C., on April 20.
MPC has participated in the Energy Star program, which recognizes both energy efficiency and environmental performance, since the EPA began awarding Energy Star recognitions to refineries in 2006.
"We are proud of our Partner of the Year recognition," said MPC Chairman and CEO Gary Heminger. "Our refineries have earned more of the EPA's Energy Star awards than all other refining companies combined, and we apply this focus on energy efficiency and environmental performance throughout our operations."
MPC has developed an internal Focus On Energy program to optimize energy utilization and lower operating costs across all its refineries.
As part of its efforts, MPC's fleet of transport trucks is recognized through the EPA's Smartway Transport Partnership as a top 20-percent performer in carbon efficiency, and the company's inland marine fleet implemented an efficiency project that resulted in a 15-percent reduction in fuel use in 2017.
Heminger said the business case for energy efficiency is strong, and the company will continue to look for opportunities to optimize its operations.
"Our accomplishments in energy efficiency and emissions reductions are part of a years-long commitment and because it's integral to how we conduct our business, we never consider this work complete," he said
"The 2018 Energy Star Partners of the Year have demonstrated real leadership, showing how American families and businesses can save energy, save money, and reduce air emissions," said Bill Wehrum, EPA assistant administrator for Air and Radiation.
Findlay-based MPC is the nation's second-largest refiner, with a crude oil refining capacity of approximately 1.9 million barrels per calendar day in its six-refinery system. Marathon-brand gasoline is sold through approximately 5,600 independently owned retail outlets across 20 states and Washington, D.C.
In addition, Speedway LLC, an MPC subsidiary, owns and operates 2,740 convenience stores in 21 states.
Through subsidiaries, MPC owns the general partner of MPLX LP, a midstream master limited partnership.