11/15/2018
Marathon Will Award Free Fuel for a Year to 100 Customers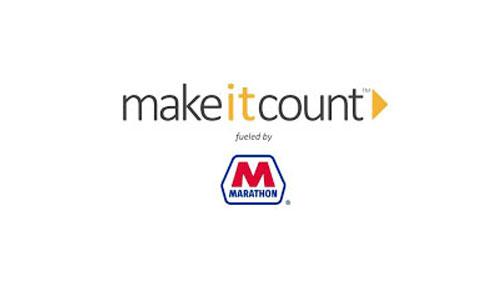 FINDLAY, Ohio — Marathon Petroleum Corp. (MPC) is kicking off a "Free Fuel for a Year" sweepstakes at participating Marathon brand retail locations nationwide.
One hundred winners will receive "free fuel for a year" in Marathon brand gift cards throughout the five-month promotion, which ends March 31, 2019. Twenty winners will be named each month.
Consumers are eligible to enter the sweepstakes by joining Marathon's MakeItCount rewards program and activating an account. Those with a current account will automatically receive an entry.
Bonus entries are earned for every fuel or qualifying in-store purchase made with a MakeItCount member ID.
"We are excited to award 100 lucky winners with the opportunity to fuel a year's worth of travels," said Bill McCleave, vice president, Marathon brand marketing. "The sweepstakes is a great way to further engage consumers in Marathon's innovative MakeItCount rewards program."
MakeItCount members can choose to save on gas, airfare, hotels or support the environment. They earn points with nationally recognized partners when they purchase fuel or qualifying items. In addition, new members save 40 cents per gallon on their first fill-up, up to 20 gallons.
For full rules and regulations regarding the "Free Fuel for a Year" sweepstakes, click here.
Findlay-based Marathon Petroleum Corp. is a leading, integrated, downstream energy company with more than 3 million barrels per day of crude oil capacity across 16 refineries. MPC's marketing system includes approximately 7,800 branded locations across the United States, including approximately 5,600 Marathon brand retail outlets. MPC also owns the general partner and majority limited partner interests in two midstream companies: MPLX LP and Andeavor Logistics LP.
In addition, Speedway LLC, a MPC subsidiary, owns and operates approximately 3,900 retail convenience stores across the U.S.