Mars Promotes Dove Ice Cream With Adult Ice Cream Truck
HACKETTSTOWN, N.J. -- Mars Chocolate North America is on a unique tour to promote its Dove brand of ice cream. The company is making stops in various cities in a no-kids-allowed, special-edition Dove Ice Cream truck featuring former teen idol and enduring celebrity Ralph Macchio, best known for starring in the 1984 hit movie, "The Karate Kid."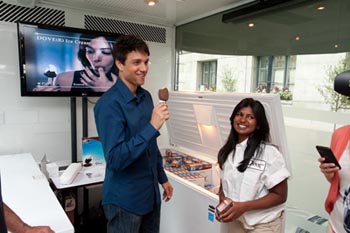 The tour kicked off last Tuesday, July 28, in Chicago's Daley Plaza. Further stops will include Minneapolis and Baltimore.
"Most of us have vivid memories of the ice cream truck," said Craig Hall, general manager of Hackettstown, N.J.-based Mars Chocolate North America. "Dove Ice Cream is all about enjoying the moment, so we created a one-of-a-kind ice cream truck to help adults relive their childhood, but in a truly decadent, grown-up way."
Instead of the usual tinny music and screaming customers, the Dove Ice Cream "Your Moment" truck offers free Dove Ice Cream bars for those at least 18 years old. The truck also provides stress-busting activities to help adults decompress, including five-minute massages by a licensed massage therapist, manicures and generation-appropriate music. Visitors can also sample items from a "chocolate bar" stocked with fresh fruit and Dove brand chocolate.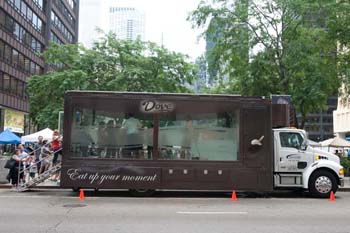 "The truck features grownup decadence at its finest," Hall noted. "And no one will have to chase the adults-only ice cream truck. It'll stop for everyone ... everyone 18 and older, that is."
For more information about the Dove Ice Cream "Your Moment" tour, including stops and times, consumers can visit the brand's Facebook page at www.facebook.com/DoveIceCream.