Mars Reveals the Voice Behind Ms. Brown Campaign
NEW YORK -- She's Ivy League educated. She's sassy and sophisticated. She's made out of chocolate.
Her name is Ms. Brown, the personality behind Mars Chocolate North America's new "spokescandy." According to Mars, Ms. Brown was the one who decided years ago that M&M's should be sold in red, yellow, blue, orange and green varieties.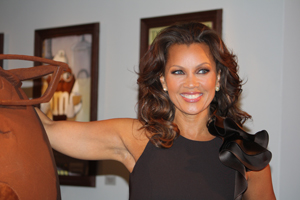 Ms. Brown made a splash during a 30-second Super Bowl XLVI commercial on Feb. 5. Last night, M&M's revealed the voice behind the Ms. Brown character: Vanessa Williams, the singer, former Miss America and current star on ABC's Desperate Housewives.
Following the Super Bowl commercial success, Ms. Brown was the guest of honor yesterday at the "Brown Carpet" opening of M&M's Museum of Chocolate Art, which features photos and sculptures designed exclusively from chocolate.
"We've had an amazing response to the commercial," Lauren Nodzak, public relations manager for Mars Chocolate North America, told CSNews Online. "As everyone starts to learn about her, she's the 'Chief Chocolate Officer' and has been behind the scenes perfecting milk chocolate for the past 70 years. We wanted to make sure we really told her history. When we started thinking about the best ways to teach who Ms. Brown is and what milk chocolate means to her, we decided to go with an art theme."
Although Williams is known for playing the roles of unscrupulous characters on Desperate Housewives and previously Ugly Betty, being Ms. Brown is a completely different project, she told CSNews Online.
She added that she auditioned for the role and Mars really liked the tape.
"I'm excited to be part of the project," Williams, fittingly clad in a brown dress and heels, said. "Ms. Brown is intelligent, sophisticated and fun. M&M's are my favorite candy to eat, so that's an added bonus."
Nodzak agreed it's definitely a different role for Williams, but she said Williams is an excellent fit for Ms. Brown. "I don't know anyone who gets to be a spokescandy," she said, "so it would be a different role for anyone."
She added that Williams, like Ms. Brown, is very intelligent with a quick wit.
"We really wanted to find a celebrity that matches with the overall M&M's brand and has many of the personality traits Ms. Brown has," she said. "Vanessa Williams is an excellent fit. We know she loves M&M's, so it's an even better partnership. It's been such a pleasure to work with her."
When asked about the future involving her role as Ms. Brown, Williams told CSNews Online she "hopes this will be a long-term project."
Expect Ms. Brown to have a prominent marketing role at Mars moving forward, said Nodzak. "Ms. Brown is our sixth character," she said. "She is a permanent member of the team. Just like all of our other characters, we will really incorporate her into all of our marketing [plans]. So Ms. Brown will have 360-degree marketing with everything imaginable from shopper marketing to consumer promotions to digital and social media. This is not the last you will hear about Ms. Brown. You will definitely hear from her all year."
The M&M's Museum of Chocolate is open now through Sunday from 11 a.m. to 6 p.m. at 468 W. Broadway in Manhattan. Admission is free and plenty of M&M's samples are available.
For those who are not located near New York City, M&M's offers a video tour of the museum on its Facebook page.