Maverik, GSP Marketing Co-sponsor Reality TV Show Episode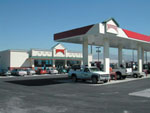 SALT LAKE CITY, Utah -- Maverik Inc. and GSP Marketing Technology are co-sponsoring the latest edition of "KickStart," Maverik's award-winning adventure reality TV show that airs in Utah and Idaho.

Launched in the spring of 2008, each episode features a regular person chosen to take part in an adventure of a lifetime. Past adventures have included sky-diving, military special ops training, NASCAR hot laps with Kyle Busch, riding in the Red Bull stunt plane and scuba diving in Cancun.

GSP Marketing Technologies won the rights to be in the show as part of an auction that benefits the Special Olympics of Utah.

"The Special Olympics are very important to us," said Scott Shakespeare, director of marketing for Maverik, which operates more than 210 convenience stores Utah, Idaho, Wyoming, Arizona, Nevada, Montana and Colorado. "Their organization holds a special place in our hearts and we are happy to be able to offer this TV spot as one more way to help raise funds for their worthy cause."

GSP Marketing Technologies and Maverik teamed up after the auction closed to decide how best to allocate the prize. "Each year we work with our retailing partners to participate in those charities that are important to them locally," explained Kevin Farley, vice president of marketing for GSP Marketing Technologies. "The Special Olympic group is a wonderful organization and we were only too happy to help. In addition, knowing how focused Maverik is on its consumer, we felt it was best to have a local Maverik consumer be the hero of the TV show."

GSP and Maverik selected a candidate to participate in a Wild-West themed episode. "Our customers are very loyal and the show has been gaining in popularity over the past years," Shakespeare said. "We were happy to have GSP not only donate the money for the Special Olympics, but the spot on the show."