McLane Rolls Out Grab & Go Hot Foods, Gourmet Pastry Programs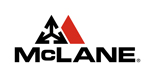 TEMPLE, Texas -- McLane Co. Inc., a leading supply chain services company, yesterday revealed two grab and go foodservice solutions for the convenience store channel -- Grab & Go Hot Foods and Grab & Go Gourmet Pastry.

The hot foodservice program was developed to addresses the growing demand for these products at a fair price. It includes an array of products and equipment solutions to help convenience stores meet growing customer demand for affordable, prepared foods, McLane stated.

Quality roller grill items include hot dogs, grilled wraps, egg rolls and breakfast sausages, while warmer selections feature breakfast sandwiches, burritos and burgers, according to the company.

"Many retailers are recognizing the growing demand for foodservice options but aren't able to provide the quality and selection required to draw these buyers," Grant Demers, product director for food service and supplies for McLane, said in a statement. "By offering retailers this new program, we're hoping to alleviate these obstacles and provide scalable solutions that promote both customer satisfaction and incremental revenue."

McLane's new Grab & Go Hot Foods program also includes equipment recommendation for roller grills, heated snack merchandisers and warmers, and comes in a variety of sizes and configurations.

Meanwhile, the supplier's new Grab & Go Gourmet Pastry program offers a turnkey solution with several options to help retailers increase their bottom line through premium-quality goods at affordable prices, the company stated.

Some products in the line include doughnuts, Danishes, cinnamon rolls, brownies and cookies. The program also provides acrylic merchandisers in a variety of sizes and configurations.

"Many retailers have neglected to capitalize on the growing demand for c-store prepared foods, and the breakfast category in particular," Demers added. "Our Grab & Go Gourmet Pastry program offers retailers a stress-free entry into this profitable segment with a wide range of value-priced products and merchandising recommendations to provide dedicated shelf space that conveys a commitment to quality, safety and variety."

For more information on these programs, visit www.mclaneco.com/goto/hot and www.mclaneco.com/goto/pastry.