NCA Calls Upon Retailers to Get Involved in Sugar Policy Reform
WASHINGTON, D.C. -- The National Confectioners Association (NCA) is calling upon convenience store retailers to get involved in the efforts to reform U.S. sugar policy.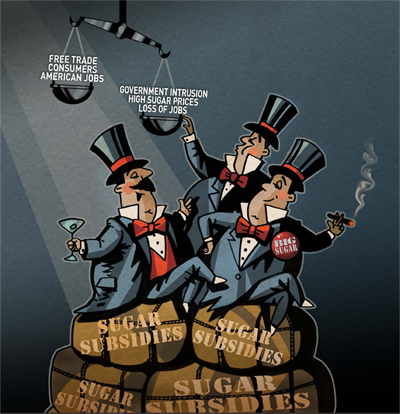 Reform of the current U.S. sugar program has become the NCA's highest-priority public policy issue. The association and other opponents of the U.S. sugar program said it costs American consumers, small businesses and food manufacturers approximately $4 billion each year and is directly responsible for the loss of thousands of American jobs.
The program stipulates that each domestic sugar processor has an allotment of sugar they are allowed to sell, and each foreign country importing sugar has a quota limit. It is illegal for a sugar processor to sell more than their allotment, regardless of supply and demand. When supplies are tight, the market cannot supply additional product and therefore, confectioners and other sugar users are suddenly faced with skyrocketing prices, the NCA explained.
Jenn Ellek, director of trade marketing and communications for the NCA, told CSNews Online that for c-store retailers, this means manufacturers have to charge more for their products. In turn, retailers are left with less margin and they cannot offer customers as compelling of deals as they would like to, due to these manufacturer cost increases.
While this has been an ongoing legislative issue, the NCA is making its biggest push ever to overturn the current U.S. sugar program. The association is a founding member of the Coalition for Sugar Reform, an alliance of consumer, trade and commerce groups, manufacturing associations, and food and beverage companies that use sugar.
National Confectioners Association President Larry Graham is chairman of the coalition, which seeks to educate members of Congress and the Administration about the real effects of current sugar policies on U.S. jobs, consumers, trade opportunities and the environment.
"In the 2012 Farm Bill, market-oriented reform of the current U.S. sugar program is needed to put an end to tight sugar supplies, excessively high sugar prices, job losses, and unnecessary and wasteful government intrusion on domestic sugar production," the coalition stated.
For its part, the NCA is making an unprecedented effort around grassroots activity -- and Ellek said the association wants to add the retailer's voice to the debate.
Among the ways she said c-store retailers can get involved is to:
 • Write to their representatives in the House and Senate;
• Invite representatives to their facilities for tours, so they can see the impact firsthand.
• Donate to the NCA Political Action Committee; and
• Make sure their candy and snack manufacturers are involved in the cause.
"The positive results of grassroots efforts cannot be ignored," said Ellek. "The power of one or a few on the Hill can mushroom into a state or even countrywide effect that results in less government involvement in business and more opportunity for growth."