New ampm Billboards Promote Secret Menu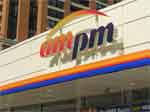 LA PALMA, Calif. -- BP's ampm brand is running billboards along the freeways of Los Angeles promoting its new Mexican sandwiches. The ads beckon passersby to go to the chain's Facebook page to "Check out the ampm Secret Menu."

LA Weekly's Squid Ink blog did just that, and reported that these off-menu items -- which ampm is calling "Yums" -- include the Hot Chihuahua, the Tower of Torta, the Towering Inferno and the just-released Chili Conquistador -- all varied combinations of "too much" meat stuffed into some form of bun, according to the blog.

Launched on July 20, the Chili Conquistador calls for the following ingredients: burger, chili and Spicy Funyuns. To prepare, "Start by topping a burger with chili and Spicy Funyuns. Then conquer the condiment bar," the convenience store chain's Facebook page states.

There are five more "Yums" yet to be unveiled, according to the Squid Ink blog.