New Distribution Technologies Fuel C-store Foodservice Revolution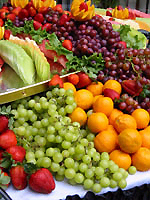 NEW YORK -- The lines between convenience stores and quick service restaurants (QSRs) have been blurring for some time, with trends pointing toward foodservice as a major contributor to recent and future c-store revenue growth. While hot food options from roller grills and warmers continue to dominate the c-store prepared-food landscape, fresh options -- such as gourmet wraps, premium juices and fresh-cut fruit -- have become a critical staple in the evolving convenience store landscape.

Growth in convenience store foodservice is coming from the ability to develop and offer high-quality products that are fresh, nutritious and flavorful, with the enhanced perception that follows. A health-conscious parent is now more willing than ever to consider lunch for the kids from a convenience store that he or she perceives will offer a healthy, affordable alternative.

Innovative technologies and processes introduced in the last few years are having a tremendous impact on this evolution. New product engineering advancements are improving shelf-life for fresh foods and making frozen foods more fresh-tasting, so chilled deli sandwiches and precooked breakfast solutions not only taste great, but are easier to manage safely for longer periods of time. However, technology from distributors to support the exploding fresh-food trend has been the key to c-store foodservice expansion.

Convenience stores -- chains and independents alike -- want to offer their customers healthier, fresher foods, but are limited in their ability to add perishable products with any kind of consistency and assurance for profitability. The complexities involved from a supply chain perspective to ensure product freshness, food safety and temperature storage throughout the entire delivery cycle -- from loading/unloading, verification, sorting and storage, to transport and presentation in the customer location -- have greatly limited opportunities for convenience store operators to take advantage of the growing demand for fresh products.

Establishment of new cold-chain processes are enabling the widespread distribution of fresh foods by limiting the amount of transport time, decreasing overhead and offering sophisticated refrigerated transport and storage options. These solutions address critical challenges associated with product freshness, food safety, and proper temperature storage and transport throughout the delivery cycle. Modern distribution systems must leverage comprehensive, multi-step monitoring processes that systematically measure, record and validate temperatures on the loading dock, in the distribution center, in transit and at the time of delivery.

When the products reach the retail site, they must be available and displayed in ways consistent with the promise of fresh foods. Fresh product merchandising also requires an enhanced level of attention when compared with traditional packaged foods. The world's best looking salad is doomed for failure if the consumer perceives it was arbitrarily merchandised in the beer cooler. Retailers are interested in finding ways to integrate fresh products into their convenience store designs and layouts. Maximizing the time that fresh products are available for sale is critical, and success or failure starts with having a comprehensive plan for making it all work in a coordinated fashion. In other words, be sure to emphasize browse-ability in any fresh offering — ensuring what's convenient for the store is also intuitive for the consumer.

Successfully delivering the type of service required to supply convenience stores with fresh food items on any scalable basis requires not only a massive, specialized infrastructure, but also a diverse set of tools and thinking. Aside from the obvious need to source and procure the freshest products from quality-focused, reliable suppliers, a distributor must also closely monitor every aspect related to temperature control and handling of those products from the time they leave a supplier's warehouse to the time they reach the retail site. For example, dairy products, and fresh fruits and vegetables have unique and different requirements. And delivering perishable goods to different regions across vast geographies — where temperature and humidity can vary wildly and greatly impact the quality of the shipment — compounds the already considerable difficulties.

The key to providing retailers with perishable products is creating a cold-chain solution completely focused on the specific needs of convenience store retailers. This custom solution ensures safe, expeditious handling and delivery for a wide selection of fresh products while also offering broad selection and flexibility for retailers.

Not only are innovative new processes and technologies expanding the availability of fresh foods to thousands of convenience stores, but they are having an effect on sales of traditional hot food as well. Offering fresh options drives additional traffic and improves the perception of c-stores as places that are dedicated to high-quality prepared food, which actually leads to more sales of hot dogs, hamburgers, chicken fingers and burritos. This may not be what the health-conscious parent had in mind, but at least the kids are happy.

As food engineering and distribution technologies continue to evolve, we'll continue to see evolution of convenience stores as direct competitors to quick-service restaurants. Finding innovative new ways to offer a variety of healthy, flavorful and affordable options will have a tremendous and sustainable impact on the foodservice landscape for years to come.

Grant Demers is McLane Co.'s product director for perishables, fresh, frozen and supplies. He has led the charge to establish McLane's proprietary fresh food program: Fresh on the Go.

Editor's Note: The opinions expressed in this article are the author's, and do not necessarily reflect the views of Convenience Store News.