New NACS Chairman Joe Sheetz Shares Three Secrets for Success
Get great content like this right in your inbox.
Subscribe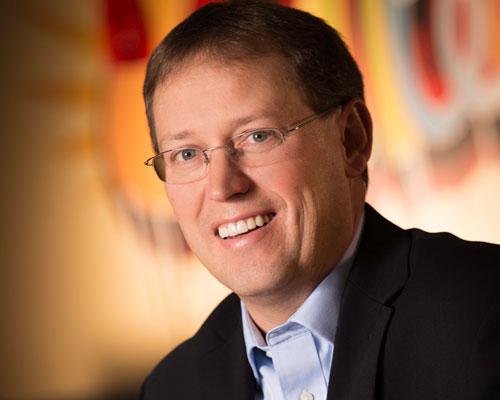 CHICAGO — As the 2017 NACS Show came to a close Friday, Oct. 20, outgoing NACS Chairman Rahim Budhwani passed the baton to incoming NACS Chairman Joe Sheetz, president and CEO of Sheetz Inc., who shared his vision for the future of the convenience and fuel retailing industry.
Taking the audience of c-store and fuel retailers and suppliers on a stroll through memory lane, Sheetz told the story of his grandfather Jerry Sheetz, who opened up a dairy in Altoona, Pa., 110 years ago. A dairy convention in the 1930s proved fortuitous, as it was there that Jerry Sheetz was inspired to alter the spelling of his last name from "Sheets" after coming across — and lifting the badge of — one Jerry Sheetz. For the dairy and the Sheetz convenience store that followed, the rest, as they say, is history.
"So, when you hear at the NACS Show that 'one idea can change your business' — or name — it's true," Sheetz quipped.
The new NACS chairman went on to outline the three "C's" that have helped shaped Sheetz from its earliest days. These three "C's," he said, can likewise help shape the c-store industry at large:
Customers,

Culture, and

Community.


 
Sheetz Inc. prides itself on providing its customers with fast and friendly service, and delivering quality products in clean and convenient locations. 
For Sheetz, who succeeded his father Joe Sheetz as well as his uncle Steve Sheetz and cousin Stan Sheetz as the company's CEO, part of serving customers well is staying ahead of the curve.
"Our vision is to create the business that will put Sheetz, as we know it today, out of business," he said.

In order to deliver the sort of service that will keep customers coming back, Sheetz Inc. makes it a priority to create a workplace culture that attracts and retains the people who will be serving them.
Sheetz, acknowledging the competition for quality talent, explained, "We all have to be more attractive to applicants."
The last "C," community, can be seen most clearly at Sheetz Inc. in the $21 million the company has raised via its Sheetz for the Kidz charity. The employee-run charity was founded 25 years ago and has supported the purchase of toys, clothes and other items for local children over the holidays every year since.

Following Sheetz, closing keynote speaker William Shatner — actor, director, producer, screenwriter, recording artist, author and horseman — began his speech by taking a moment to commend the c-store industry for its charitable contributions in the wake of hurricanes Harvey, Irma, Jose and Maria.
The 50-year veteran of show business went on to share some of his life rules, the first of which is "Say Yes."
"'No' closes doors. 'Yes' keeps them wide open," he explained. 
 Among Shatner's other life rules are: "Keep busy, stay busy" and "Stay hydrated."
The 2017 NACS Show took place Oct. 17-20 at Chicago's McCormick Place.