New University of Houston Store Offers Food for Feedback
HOUSTON -- A new convenience store located in the College of Business at the University of Houston-Downtown (UHD) is a concept that will offer more than food for thought -- the operators will literally feed customers in exchange for their feedback on products.
Set to open in August for the beginning of the academic year, the "Check It Out" c-store is a retail and marketing laboratory run entirely by students. Retail management students will manage the day-to-day operations of the store, and stock and price merchandise before placing it on display shelves.
All UHD students, faculty and staff are eligible for a free account loaded with 1,000 cyber points, equal to 1,000 pennies, which serve as currency in the store. Cardholders can apply their points toward the purchase of food, cleaning supplies, toiletries, energy drinks and other products.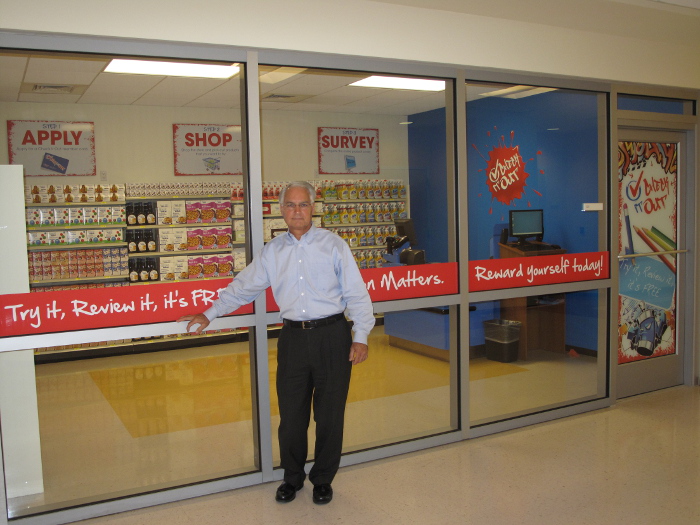 Tracy Davis outside the Check It Out c-store at UHD.
After purchasing a product, participants must complete a brief online questionnaire about the item, its price point and other consumer preferences. Once the cardholder completes the online assessment, the "cost" of the product -- its point value -- is automatically credited to the card so that students can purchase additional items.
Marketing majors will gather the data from the student surveys, conduct additional research on the products and produce detailed reports to submit to participating suppliers.
"UHD's Check It Out store is a premier platform for suppliers to get their products directly into the hands of consumers," said Tracy Davis, director of the Center for Retail Management at UHD. "Because UHD's student body is one of the most diverse in the nation, suppliers can gather key feedback and tailor their products and marketing campaigns based on consumers' cultural preferences."
Students will also benefit from the latest, high-tech software and equipment currently used by retailers. For example, Cash Register Services recently donated $40,000 worth of checkout equipment; Loyalty Lane provided a customer loyalty program; Total Printing Solutions designed and printed signage and graphics; Grocer's Supply provided products and equipment; and Walmart provided funding and products to the "Check It Out" store.
The Check It Out c-store is actively seeking manufacturing partners to participate.
"UHD's Check It Out store is an excellent teaching tool and a clear win-win for both students and participating suppliers...This is an excellent opportunity for major manufacturers to provide their products to college students, with a guaranteed, detail report of these consumers' preferences," Davis concluded.
Suppliers interested in learning more about UHD's "Check It Out" store should contact Davis at (713) 826-3638 or [email protected]