Newport Non Menthol Cigarettes Hit Market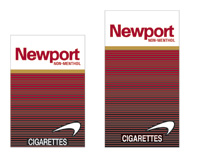 GREENSBORO, N.C. -- Lorillard Inc., the third-largest cigarette company in the U.S., began shipping its long-awaited, new non-menthol variety of its flagship Newport brand yesterday (Monday).

Called Newport Non Menthol Box and Newport Non Menthol Box 100, the new tobacco products are positioned and priced as a premium brand with a $16.50-off invoice per carton during the introductory period.

According to previous reports, Lorillard believes the new products will strengthen its competitive position. Newport is the second-largest cigarette brand in the industry as well as the top-selling menthol brand. Newport Non Menthol Box and Newport Non Menthol Box 100s provides the tobacco company with "a greater opportunity to compete in the largest segment of the U.S. cigarette market, as the non-menthol category represents approximately 70 percent of total industry volume," said Lorillard chairman, president and CEO Martin Orlowsky , in a release earlier this year.