NJOY and Bruno Mars Compose Investor Deal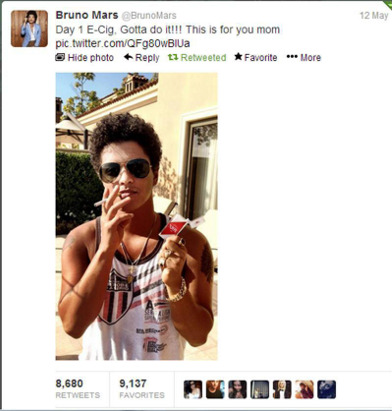 Bruno Mars took to Twitter with NJOY.
SCOTTSDALE, Ariz. -- NJOY revealed that musician Bruno Mars has joined the company as an investor. Terms of the investment were not disclosed.
Mars comes to the company after switching to electronic cigarettes as an alternative to traditional cigarettes.
"I've been using NJOY Kings instead of cigarettes these days and I'm sticking to it," said Mars, a 13-time Grammy Award nominee. "I believe in the product and the company's mission."
NJOY introduced NJOY Kings to the industry at the 2012 NACS Show in Las Vegas in October. The e-cigarette is intended to have the feel and taste -- nearly identical in length and weight -- of a traditional cigarette. NJOY Kings are available in two flavors (traditional tobacco and menthol) and two nicotine levels (Gold and Bold).
"Bruno Mars is an exciting addition to NJOY and we are pleased to have him on board," said Craig Weiss, CEO of NJOY. "Adding Bruno to our team expands our reach, raising further awareness of the NJOY brand and our company mission to obsolete cigarettes. Many of our investors use our product and recognize the potential NJOY has to challenge the status quo and change people's lives for the better."
NJOY Kings are available in more than 60,000 retail stores, including 7-Eleven, Hess, Chevron, RaceTrac and Circle K.
Mars is well known for several hit songs, such as "Grenade," "Nothin' On You" and "Billionaire."