North Carolina Hoops Battle Begins With Coffee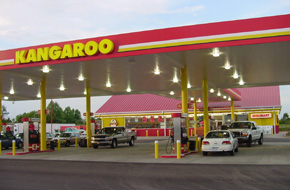 CARY, N.C. -- With the start of the 2010-11 college basketball season, The Pantry Inc. is launching its Battle for Bean Street competition. The initiative not only gives fans a chance to show their loyalty, but helps charities as well, the company reported.

University of North Carolina, North Carolina State University and Duke University loyalists can cast their vote when they choose a cup of Bean Street Coffee available at The Pantry's Kangaroo Express stores, according to the company. For every 20-ounce UNC, NC State or Duke cup of Bean Street Coffee purchased throughout the Triangle area this basketball season, the corresponding university will receive a point toward its total score. The one with the most cups tallied by April 1, 2011 will win a $20,000 donation to the charity of its choice from Kangaroo Express.

"The rivalry among UNC, NC State and Duke in the Triangle area is undeniably filled with heated passion unlike no other in the nation," John Fisher, senior vice president of marketing at The Pantry said in a released statement. "In the first promotion to ever harness this energy into one campaign, Kangaroo Express is bringing together the fans of all three universities in the Battle for Bean Street to enjoy a hot cup of high-quality Bean Street Coffee while making a statement of support for their favorite team and school's charity."

UNC fans will be buying coffee in a bid to win the grand prize for the student organization UNC Build-A-Block, NC State for The V Foundation's Kay Yow Women's Basketball Coach Association Cancer Fund, and Duke for the Duke Comprehensive Cancer Center. Regardless of the final outcome, each charity will receive a minimum $5,000 donation from Kangaroo Express.

This recent promotion with the three universities comes on the heels of its "We Brew It -- You Do It" football season campaign, showcasing the different ways guests can customize their Bean Street Coffee.