01/29/2013
OTP, E-Cigarettes Take Driver's Seat in Tobacco Category
LAS VEGAS -- While total cigarette volume still pulls in healthy numbers -- representing $85 billion in annual retail sales -- it has been steadily declining over the past few decades. The new, more positive story in the tobacco category lies in other tobacco products (OTP) and electronic cigarettes, both of which are seeing their numbers rise.
As a mix of convenience retailers and suppliers gathered Tuesday at the Convenience Store News Tobacco Summit in Las Vegas on the eve of Tobacco Plus Expo 2013, the general consensus was that OTP and e-cigarettes provide real opportunity for growth in tobacco -- a must-have convenience store category.
Bonnie Herzog, managing director, tobacco, beverage and consumer research at Wells Fargo Securities LLC, said she believes e-cigarette consumption could surpass that of traditional cigarettes in 10 years. History may be on her side, as there was a time not that long ago when filtered cigarettes and even "light" cigarettes were trying to make a name for themselves on the market.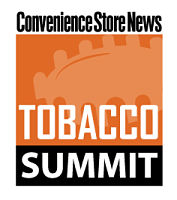 Continued changes in the cigarette segment are being driven by several factors: partly by regulations, partly by smoking bans and partly by more health-conscious consumers. Those factors have not gone unnoticed by the major tobacco companies. According to Herzog, a guest speaker at the CSNews Tobacco Summit, manufacturers have become more aggressive in embracing the total tobacco category – not just cigarettes.
One recent example that stands out is Lorillard Inc.'s acquisition of blu ecigs in April. Based on retailers' comments during the Summit, this move by the North Carolina-based tobacco company is a smart one since they predict e-cigarettes have legs and could be here to stay.
The big question mark, though, around e-cigarettes – and all tobacco segments, for that matter -- is government regulation. After declaring that it would issue regulations on e-cigarettes as a tobacco product in spring 2011, the Food and Drug Administration (FDA) has yet to hand down any rules. Some industry insiders think that regulations could be issued by the FDA as early as this April.
The Convenience Store News Tobacco Summit was sponsored by Swedish Match and CIGR8 electronic cigarettes.