The Pantry Finds Stability, Refocus Under New CEO
CARY, N.C. -- March 5 marked one year since Dennis Hatchell took the reins at The Pantry Inc. as president and CEO, succeeding former chief executive Terry Marks. While a lot of focus has been placed lately on the string of executive changes at the company, Hatchell in his first industry interview proudly recounted to CSNews Online the numerous accomplishments the leadership team has made in the past 12 months.
"We worked really hard to create an enjoyable workplace. Retailing is hard work, but it should be a lot of fun. If everyone treats each other, the business and the customer right, it should be enjoyable to do," said Hatchell, who came to The Pantry from the grocery industry. "We should focus on making it that way. All the work and training has been focused on that. It gives you momentum; it gives you growth."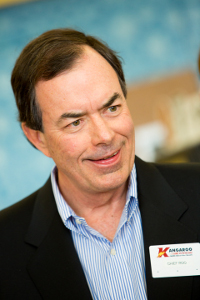 CEO Dennis Hatchell
CSNews Online visited with Hatchell and several members of The Pantry's executive team last week at a Kangaroo Express store in Morrisville, N.C., not far from the convenience retailer's headquarters in Cary. While it was Hatchell's first turn in the spotlight, he was quick to point to his team members when ticking off the achievements of the past year.
Specifically, the company was able to refinance and restructure its debt, an accomplishment he credited to Berry Epley, vice president, controller. In addition, The Pantry inked two new fuel agreements and implemented a new fuel pricing program, according to Hatchell.
The company has also put a lot of effort into finding the right product assortment for its stores. The Pantry operates more than 1,500 convenience stores in 13 states under several banners, including its primary operating banner Kangaroo Express.
"We've got a lot done working on our mix. Jon [Bratta, vice president merchandising, packaged goods] and his team, and Treeny [Ahmed, category manager, fresh foods] and her team did a lot of research. We know what our customers want and what they don't want. We are testing new items in our stores and moving sections around. The lifestyle/local market merchandising initiative is starting to happen; that's pretty exciting," Hatchell said.
The Pantry is also continuing its focus of supporting the military – both through its third annual Salute Our Troops fundraising campaign, which is set for this summer, and by hiring military service members and their family members.
While all of these strides are important and well-noted by the company, probably the most exciting has been the opening of a new Kangaroo Express store in Charlotte, N.C., in late February -- the first new Roo location in four years.
"This guy is really smiling," Hatchell said, pointing to Epley. "He has been waiting a long time. We finally got a new store open."
The store was designed more than a year ago, so the retailer wasn't able to get as many new features in there as hoped, but Hatchell said it is still a success. "It's pretty close to a new prototype for Kangaroo Express. It has a full [quick-service restaurant]," he noted. "We need to reallocate space and we need more room for some of the newer foodservice offerings we want. We want to continue to expand our teas, our yogurts, our salads -- all the fresh products the customers really want."
The complete interview with Hatchell and his team will appear in the April issue of Convenience Store News.