Parker's Announces "Why I Love Parker's" Video Contest Winners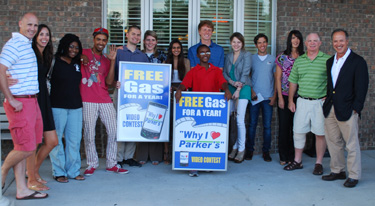 SAVANNAH, Ga. -- Parker's named the three grand prize winners of its "Why I Love Parker's" Facebook video contest at a special awards banquet hosted by company president and CEO Greg Parker on May 30. All three winners will receive free gasoline for one year.
Contest winners are:
• Nick Gant - "KidSyc Loves Parker's
• Emma Debany - "Parker's Fever
• Ryan Lockhart - Parker's is the Spot
Contest participants created short videos that creatively captured why they love Parker's and inspired others to love Parker's, the company said. The top five finalists were selected based on "Love It" votes cast by the convenience store chain's Facebook fans. Grand-prize winners were judged based on originality, creativity, entertainment value and the degree to which the message inspires others to "Love Parker's."
Gant, of Meddin Studios, created his video in collaboration with Lloyd "KidSyc" Harold and donated the year of free gas to DaVena Jordan, executive director of AWOL Inc., a local non-profit organization providing arts, performance and technology opportunities for at-risk youth. It will help the group transport area youth to various programs using a newly donated 15-passenger van, said Gant.
"AWOL is near and dear to my heart because they gave me my first job as a sound design facilitator after I graduated from college," said KidSyc. "They help keep kids occupied and off the street after school, giving them a safe place where they can create something that is all their own."
"We would like to thank each of the participants who took the time to create videos," stated Greg Parker. "We received nearly 3,400 votes for the contest videos. That's an amazing number. I'm extremely impressed by our fans enthusiasm for Parker's."
All video submissions will be considered for future Parker's marketing purposes on TV ads, on the Parker's website and on other social media channels.
Parker's currently operates 27 c-stores in South Carolina and southeast Georgia with plans to open new locations in Chatham, Liberty, Effingham, Bulloch, Jasper and Beaufort Counties.