PC&F to Rebrand Company, Stores as My Goods Market
PLEASANTON, Calif. -- Pacific Convenience & Fuels LLC (PC&F), operator of more than 300 gas stations and convenience stores in California, Colorado, Oregon, Texas and Washington State, is rebranding its image and taking on a new name.
The Pleasanton, Calif.-based chain recently opened a store in Denver International Airport called My Goods and now, PC&F is planning to change the name of its company and stores to My Goods Market, Sam Hirbod, president and CEO, told CSNews Online in an exclusive interview.
"Pacific Convenience & Fuels has always been a placeholder for us," Hirbod said. "When we bought the ConocoPhillips assets, we couldn't change the name of the stores because they were all under Circle K contracts. Now, [those contracts] are up, so we are going to change to My Goods Market and rebrand all of the stores."
PC&F acquired all of ConocoPhillips' U.S. retail marketing assets in January 2009. The company has spent the last several years focused on the integration, optimization and rationalization of the assets it acquired, divesting sites that no longer fit its long-term goals.
While there will be a few Cir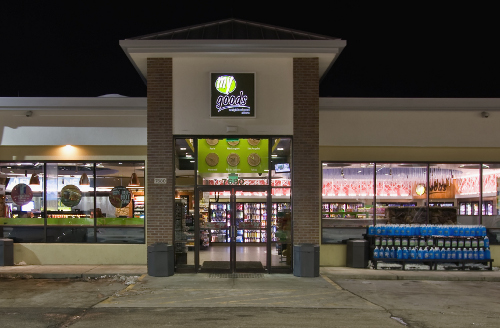 cle K stores left, the majority of the stores will become My Goods Market, and the new name will also usher in a new image, according to Hirbod. The goal is to create a more upscale feel in the stores and add new healthy offerings to the mix. To help execute this, the company recently hired Justin Jackson, a former executive vice president at Whole Foods Market.
"We want to resonate with a larger demographic and not just make the stores appeal to one set of customers," said Hirbod. "C-stores have often neglected the professionals and soccer moms, and I've said in the past [that] Starbucks is one of the most successful c-stores. While we were asleep, they took care of everyone we didn't. Now, My Goods will take care of a larger market, and we will have elements people may not have seen in a c-store before."
Even with the changes, though, My Goods will still take care of its core customers and offer all the items they are used to finding. But the goal is to add new items to appeal to a broader customer base, especially in the center store where many c-stores fill space with items that don't sell well, the CEO noted.
"As convenience changes, we have to change with it. There was a time when beer and tobacco dominated, but they are changing. The opportunity now is in the center store, which includes foodservice," Hirbod explained. "In our industry, 35 percent of our in-store real estate represents more than 80 percent of our sales, so there is a lot of opportunity in there."
The rebranding and changes are expected to be implemented across the chain by the end of first-quarter 2014.