04/24/2012
A Peek Inside Kum & Go's New Central Arkansas Stores
NORTH LITTLE ROCK, Ark. -- CSNews Online got a look at the type of convenience stores Kum & Go LC will be building throughout central Arkansas over the next five years as part of the company's planned $70-million-to-$80-million investment in the area.
The family-owned, privately-held c-store chain, based in West Des Moines, Iowa, announced in July that it intends to open 20 to 25 new stores in central Arkansas. Kum & Go President and CEO Kyle J. Krause said the region was selected for expansion because of the strong sense of family and core values that resonate throughout the area, and the fact that central Arkansas is committed to future growth, attracting quality companies and creating new jobs.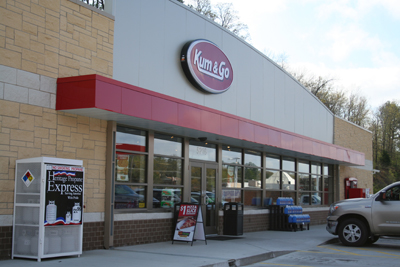 During a recent trip to North Little Rock, CSNews Online stopped in at one of Kum & Go's newest stores in the region. The new build at 5126 JFK Boulevard opened in December, but as our editors remarked upon entering, it looked so clean and pristine that it could have been opening day. In fact, an employee was mopping the floor at the time we walked in.
Foodservice -- specifically the retailer's "Go Fresh Market" program -- is clearly the focal point of the store. We arrived around lunchtime to find pizza by the slice and hot sandwiches ready for grab-and-go in a warmer. The store also features a large self-service roller grill offering, as well as an open-air cooler stocked with "Go Fresh Market" cold deli sandwiches and wraps.
Dispensed beverages have a significant presence in the store as well. Of particular note, the hot dispensed offering includes two three-head cappuccino machines and a whipped cream dispenser. On the frozen beverage side, f'real milkshakes take center stage, as the store has two of the machines on either side of the biggest f'real cooler we've seen in a c-store.
Aside from foodservice, private label is another apparent focus for the store. Situated along the front window, directly across from the center checkout, is a sizeable display stocked with all Kum & Go private label items, including Kum & Go logo merchandise.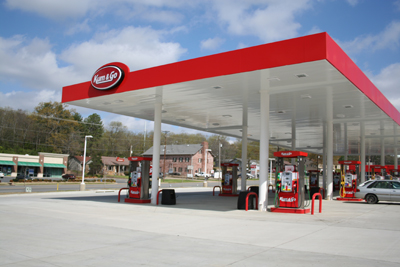 And we cannot forget to mention the stellar customer service we received. We were immediately greeted as we walked in, and every employee we encountered gave us a friendly smile. At checkout, we were sent off with a sincere "come back and see us again soon."
If Kum & Go replicates this store model throughout central Arkansas, we have no doubts that the chain will quickly become a destination for consumers in the region.