Peeps Expands Holiday Treat Line-Up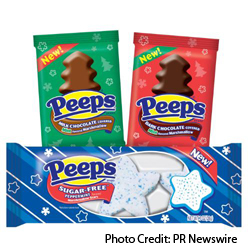 BETHLEHEM, Pa. -- Known for the pink and yellow marshmallow bunnies every spring, Peeps is adding to its holiday candy offerings with Peeps Chocolate Covered Mint Flavored Marshmallow Trees.
The trees are the brand's first chocolate-covered item with a flavored marshmallow center. They will make their debut at Rockefeller Center in New York City for the traditional tree lighting ceremony on Nov. 30. The sweet treats come in creamy milk chocolate or rich dark chocolate and are in single-serve packages, according to the company.
"We are very excited to treat our fans to these delicious new Peeps Chocolate Covered Mint Flavored Trees at this iconic holiday event," Aubrecia Cooper, assistant brand manager for Peeps Marshmallow Candies said in a released statement.
Peeps didn't stop with trees. The locally headquartered company also makes several other Christmas candies, including one additional new item this year: Peeps Sugar-free Peppermint stars. The stars and the trees join Peeps Chocolate Mouse Flavored Marshmallow Reindeer, Peeps Marshmallow Trees and Snowmen, Peeps Sugar Cookie Flavored Marshmallow Cutouts and Peeps Peppermint Flavored Marshmallow Stars.