People Matter at Flash Foods
WAYCROSS, Ga. -- There was a time when an individual looking for a job at a convenience store would walk in and ask for an application. The job seeker would return later with the completed form -- filled out by hand -- and then it would make the rounds to the store manager, supervisor and even human resources department. This first step was then followed up with countless phone calls and interviews before anyone even got hired.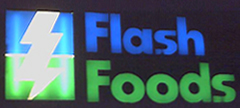 This, however, is no longer standard operating procedure at locally headquartered Flash Foods, a subsidiary of The Jones Co. With the help of PeopleMatter, the convenience store operator has streamlined its hiring process and is now working to do the same to its training process.
The PeopleMatter talent management solution takes the entire paper trail and moves it online. Now, potential Flash Foods employees fill out an application online, including a hiring assessment, which a manager or supervisor can immediately access anywhere, anytime.
Prior to signing up with PeopleMatter, Flash Foods CIO Jenny Bullard said the c-store retailer worked with another software company to provide an online application, but was struggling to make it work. That company was acquired by PeopleMatter, which presented Flash Foods with a new process it was working on. After some review, the chain signed a contract with Charleston, S.C.-based PeopleMatter in March 2011 and went live with it in July.
"It is so easy to use from an applicant's standpoint and on the back end for supervisors and managers," Bullard explained. "We wanted it to be simple; that is what really excited us."
Once new employees are hired, they complete all their onboarding tasks online through PeopleMatter, as well. These tasks include tax forms, payroll information and tax credit information.
"Previously, everything was paper oriented: the application, hiring, government forms, payroll, the new hire packet," Bullard said. "Then, the new hire packet would have to be sent back to human resources so the employee's information could be entered into the system."
PeopleMatter has eliminated a lot of rekeying and file space in the company's corporate office, she noted.
The new approach to employee hiring has benefited Flash Foods in several other ways, too. With the hiring assessment now conducted during the application process, the company has gotten better qualified employees, reducing the amount of turnover that often plagues the convenience store industry. In addition, Bullard said, the onboarding tasks determine if the company qualifies for tax credits by hiring the employee.
"In the first six months of using PeopleMatter, we doubled our tax credits from the previous year," she said.
PeopleMatter, which launched in 2009, grew from President and CEO Nate DaPore's previous company, Benefits Focus. Through that business, DaPore began to see talent management heating up the marketplace.
"The original thesis was talent management focus for small employers," DaPore explained, adding that he "fell into" focusing on the service industry through a friend who owned a restaurant.
"From there, I looked at other businesses with similar traits: an hourly workforce, shift workers, multiple workers and a focus on customer service. We came up with four target areas: restaurants, convenience stores, retail and hospitality," he said.
Since it launched more than two years ago, PeopleMatter's customer base has been evenly split between restaurants and c-stores. On the convenience side, customers range from small operators with two or three locations to major chains with 200 stores.
"We started with Parker's convenience stores; Flash Foods was our second customer," DaPore explained. "Today, we have more than 40 convenience store companies in our customer base with more than 1,500 locations. Our goal is to add another 4,000 locations this year."
PeopleMatter is still in its first generation phase. To date, it has rolled out two modules: HIRE and LEARN. Next month, SCHEDULE launches and a fourth module, ENGAGE, is set to come online by the end of the year.
According to DaPore, using the company's talent management system provides "tremendous" return on investment through cost and operating savings. It also reduces turnover and allows c-stores to track better candidates. In addition, PeopleMatter offers better engagement between the employee and the employer, he said, pointing out that the solution integrates all aspects of human resources into one platform.
"We are very in tune with the specific needs of the convenience store industry," DaPore said. "We made life easier. PeopleMatter allows human resources to focus on core tasks. It allows human resources to do more with less; they are not bogged down with paper tasks."
After rolling out its fourth module, PeopleMatter will move into its second generation strategy, "G2." This will focus on consumer feedback to provide business intelligence and data analytics, which c-store operators can use to drive behavior and sales.
"We are really pleased with everything we have seen so far," said Bullard of Flash Foods. "Overall, this has been a good decision."