PepsiCo Expands Better-For-You Snack Portfolio With Bare Snacks Pact
Get great content like this right in your inbox.
Subscribe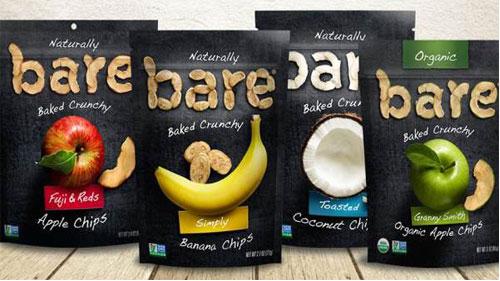 PURCHASE, N.Y. — PepsiCo Inc. will expand its better-for-you snack portfolio with a definitive agreement to acquire Bare Foods Co., which does business as Bare Snacks.
According to PepsiCo, the transaction will further deliver on its "Performance with Purpose" vision to offer consumers more positive nutrition options.
"For nearly a dozen years, PepsiCo has been committed to 'Performance with Purpose,' our vision of making more nutritious products, while also reducing added sugars, salt and saturated fat. Bare Snacks fits perfectly within that vision," said Indra Nooyi, chairman and CEO of PepsiCo. "The Bare Snacks leadership team has done an outstanding job building a top-tier organization and a strong brand with authentic roots, and I couldn't be more excited to welcome Bare Snacks to the PepsiCo family."
Bare Snacks was founded in 2001 by a family-owned organic apple farm in Washington State that began selling packaged baked apple chips in local farmers' markets. Today, its bare line of snacks include Apple Chips, Banana Chips, Coconut Chips, and new Beet Chips, Carrot Chips and Sweet Potato Chips.
Under its current leadership team, Bare Snacks expanded steadily to become the leader in apple, banana and coconut snacks, the company stated. Bare products are made from simple ingredients that are baked, not fried. They are non-GMO Project verified and feature clean labels.
"We are thrilled to work with the PepsiCo team to further our mission of bringing simplicity to snacking," said Santosh Padki, CEO of Bare Foods. "With a shared passion for crunchy, better-for-you snacks, PepsiCo is the right partner to help bring our simply baked fruit and vegetable  snacks to even more consumers across the world and continue to grow our brand."
Upon closing, Bare Snacks will continue to operate independently from its headquarters in San Francisco with its leadership reporting into Frito-Lay North America, a division of PepsiCo.
"Bare premium baked fruit and vegetable chips are an exciting expansion of Frito-Lay's better-for-you snack offerings," said Vivek Sankaran, president and chief operating officer for Frito-Lay North America. "While we will continue to offer the current Bare Snacks product line, we look forward to working with the Bare Snacks team to deliver new, innovative options, and ultimately expanded distribution, to meet the ever-growing consumer demands for authentic and nutritious snacks."
Purchase-based PepsiCo generated more than $63 billion in net revenue in 2017 from 22 brands that generate more than $1 billion each in estimated annual retail sales.