Petro Stopping Centers to accept Fuelman and CFN FleetWide Cards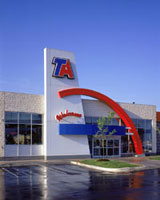 NORCROSS, Ga. -- TravelCenters of America (TA)/Petro Stopping Centers announced a new program that allows Fuelman and CFN FleetWide fleet card customers to make purchases at all participating Travel Centers of America/Petro Stopping Centers locations.

"We welcome Fuelman customers to the full-service experience that only the TA and Petro brands can deliver. We are additionally thrilled to have Fuelman on board as another payment option for our existing customers," Tom O'Brien, CEO of TravelCenters/Petro Stopping Centers said in a released statement.

"TA/Petro offers a variety of services for all classes of vehicles and driver needs, including the UltraOne Loyalty program, which now offers many additional benefits for frequent users. Their nationwide footprint matches the requirements of Fuelman Network customers and we're delighted to offer this expanded relationship," Benton Routh, president of the Fuelman Network, said in a released statement.