Petro Stopping Centers Celebrates 35 Years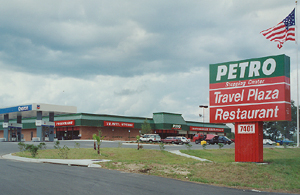 WESTLAKE, Ohio -- Begun in 1975 in El Paso, Texas, PETRO Stopping Centers has grown to 63 locations in 31 states and kicked off its 35th anniversary celebration with a limited time offering of "All You Can Eat Chicken Fried Steak" in its award-winning Iron Skillet Restaurants and commemorative anniversary clothing available in its travel stores last week, the company reported.

The Petro Iron Skillet Restaurant will celebrate this milestone by featuring its classic chicken fried steak in two all-you-can-eat offerings. One will be available for breakfast served with eggs for $8.99, and another for lunch or dinner with choice of a side item and the endless soup and salad bar for $9.99, according to the company.

A limited edition series of 35th anniversary T-shirts has also been created. Each of the Petro Stopping Centers across the country will have a unique custom T-shirt available featuring the 35th anniversary logo and a design that captures the essence of the city in which they are located, while supplies last.