PHOTO GALLERY: Platte Street Mercantile Blends Nostalgia With Modern Convenience  
Get great content like this right in your inbox.
Subscribe
DENVER — Platte Street Mercantile co-owners Tammy Williams and Janine Williams — best friends with the same last name — have been designing grab-and-go markets for the hotel industry for nearly a decade. When they moved their office to Denver's booming Platte Street community, the retail design veterans recognized an immediate need for a quality grab-and-go convenience store to serve the neighborhood with lunches, beverages, snacks, and grocery and convenience items. 
Janine and Tammy have wanted to open their own store since they began working together at Impulsify, a Denver-based software company founded by Janine, and where Tammy serves as vice president of retail design. The company develops retail technology solutions for the hotel industry, and uses purchasing data collected from guest purchases to design unattended micro-markets for hotels and high-end residences.
"Platte Street Mercantile is both a local grab-and-go convenience store, as well as a retail learning lab for Impulsify," the owners explained. "We always wanted to design a store of our own to be a testing ground for our POS [point-of-sale] technology, retail design, and product mix strategies we offer our hotels. When space opened up down the street from our headquarters on Platte Street, we grabbed it."
Situated in a booming area of office, retail and residential construction, Tammy designed Platte Street Mercantile to be a juxtaposition of old-school Denver general store mixed with clean, bright and modern design features, surfaces and appliances.
"We wanted it to be a convenience store that felt more like running downstairs to your kitchen," she said, relating her design inspiration to "pairing a gorgeous wedding dress with comfortable cowboy boots."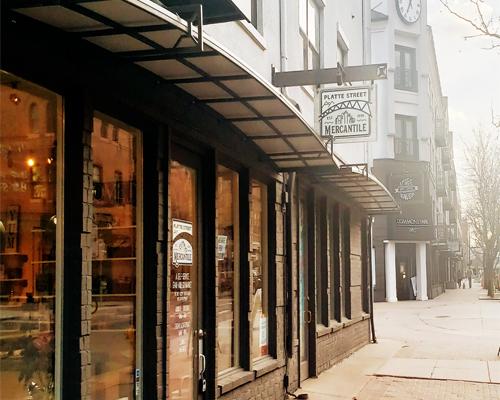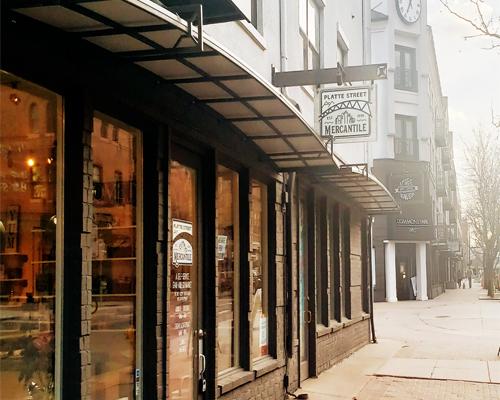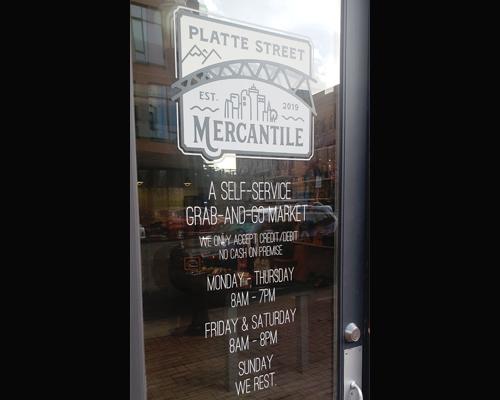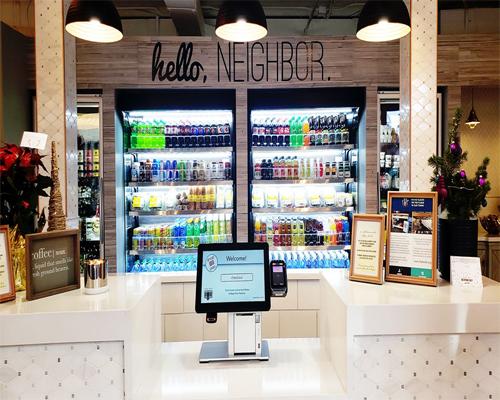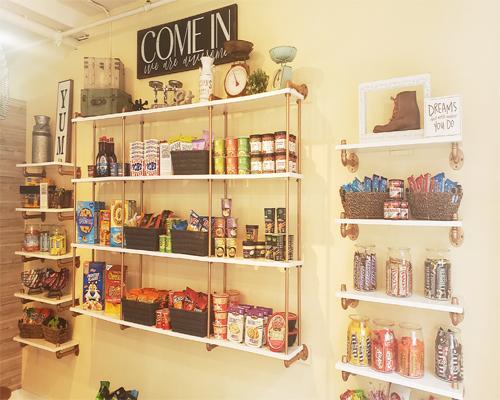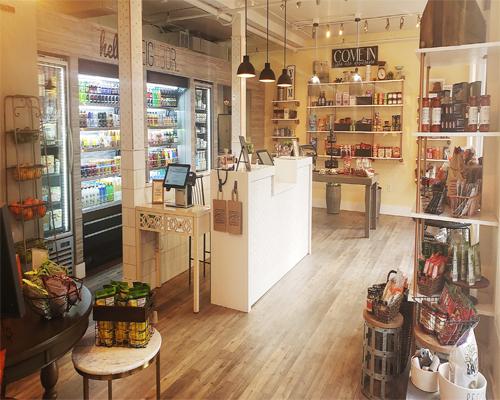 To accommodate the younger resident/workforce in the historical Platte Street community, the store is completely cashless; all transactions are conducted on Impulsify's ShopPoP Kiosks, where guests scan their items, pay by credit card, and email or print a receipt for true grab-and-go convenience.
"Our core business purpose is to prove that it is possible to be both a self-service, technology-driven retail operation and still be hospitable, friendly and courteous as a brand," the owners said. "So many think that adding self-service technology detracts from customer engagement and hospitality. We wholeheartedly disagree. When the transaction aspect of retail is automated for the customer through a kiosk, the store attendant is available to authentically engage with the customer, be helpful and courteous, tend to the store — rather than just scan product and swipe credit cards. It also minimizes overhead and payroll tremendously with a single staffing model."
Platte Street Mercantile's product mix brings together national brands and locally produced goods, including beverages, sweets, snacks, and shelf-stable and frozen meals. Fresh packaged sandwiches, salads, wraps and pastries also are available from community chefs like Mary Nguyen of Olive & Finch, a local eatery that focuses on scratch-made food.
In the wake of the coronavirus pandemic and shelter-in-place mandates, the store has added a targeted offering of traditional grocery items, from milk, bread, eggs, cereal, canned goods and easy-to-prepare meals to cleaning supplies and toiletries.
"Our core mission is to be a good neighbor to our community. To have what they need when they need it in a clean, friendly, welcoming neighborhood market," the owners said.