Pilot Flying J CEO Jimmy Haslam Apologizes to Football Community
WESTLAKE, Ohio -- For the last three weeks, Jimmy Haslam has been in the public eye for his role as CEO of Pilot Flying J. Last night, he took a turn in the spotlight wearing his other hat: majority owner of the National Football League's Cleveland Browns. He used the opportunity to apologize to the football community.
"Let me start by saying this, I apologize to the city of Cleveland, northeastern Ohio and all Browns fans because the last thing we ever wanted to do as a new owner was to detract from football and the Browns, and just what a great football area this is," Haslam said at the Northeast Ohio National Football Foundation Awards Banquet. "I apologize for that, we feel badly about it and we're comfortable that we'll work through this situation, but I did want to say that publicly."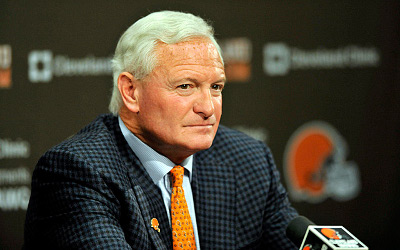 Jimmy Haslam
Haslam was referring to the April 15 raid by the FBI and Internal Revenue Service of Pilot Flying J's Knoxville, Tenn., headquarters. The investigation stems from allegations that the family-owned truck stop operator committed fraud against customers enrolled in its rebate program, as CSNews Online previously reported.
During Tuesday night's banquet, the chief executive explained that he and other company executives were initially confused about the reason behind the raid, only getting confirmation on the alleged rebate scheme when the FBI affidavit was released on April 18.
"In it, I guess it was good news and bad news. The good news was, we understood what the issue was. The bad news -- and it was really sickening to me, candidly -- was the apparent behavior of some of our salespeople; behavior that's not characteristic of how the 20,000 employees of PFJ [Pilot Flying J] act and behave toward anyone," Haslam said. "We don't talk that way. We don't act that way. Candidly, it was behavior that was particularly improper toward customers. [The affidavit] came out Thursday afternoon, I read it Thursday night and was literally almost sick to my stomach, candidly. No. 1, it was embarrassing and No. 2, it's not how we act."
He added that the company is cooperating with federal officials and taking several steps to address the issues raised in the investigation.
The FBI probe began at a time when Haslam and the Cleveland Browns were preparing for the NFL draft. With the draft now over and Pilot Flying J working toward remedying its problems, Haslam said he is looking ahead to the 2013 football season, which opens Sept. 5.
"I'll be out calling [on] trucking companies for the next two and a half days. Then, I'll be back up here for practice. We'll have everybody here Friday afternoon, Saturday afternoon and Sunday. I'm real excited about our schedule. I think we have a great home schedule opening up with the [Miami] Dolphins at home and having a Thursday night national TV game, which I don't think we've had since maybe 2008 or 2009. I think it's going to be great for our fans. I think we'll have a better football team this year. As I've said on several occasions, we're going to do this the right way. It's not going to happen overnight," he said.
Pilot Flying J is a family-owned business that was started by Haslam's father in 1958. The company operates more than 650 retail locations and is the largest operator of travel centers and travel plazas in North America.