Pilot Flying J Recognizes Winners in Fifth Annual Road Warrior Contest
Get great content like this right in your inbox.
Subscribe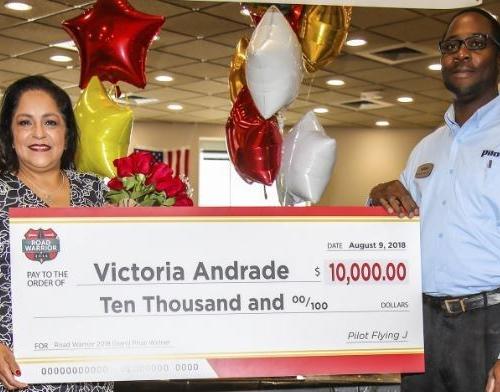 KNOXVILLE, Tenn. — Pilot Flyng J kicked off Driver Appreciation Week by announcing the winners of its fifth annual Road Warrior contest.
Victoria Andrade of Harlingen, Texas; Bob Loyd of Ottawa Lake, Mich.; and James Monclair of Marrero, La., were named the grand-, second- and third-place Road Warrior winners, respectively.
The annual contest recognizes professional drivers for their hard work, perseverance and passion for driving with cash prizes for the winners.
Family members, friends and coworkers across the United States nominate Road Warriors each year. In 2018, Pilot Flying J's social media community voted for the top three winners from 12 selected finalists.
Pilot Flying J surprised grand prize winner Andrade with a celebration at the Pilot Travel Center near her hometown, where it presented her with a $10,000 prize check. Loyd will receive $5,000; Monclair will receive $2,500; and the remaining nine finalists will receive $1,000 each. Nominators of the grand-, second- and third-place winners will also receive a $500 prize.
"We are excited to congratulate this year's Road Warrior winners, recognizing them as inspiring and exceptional representations of the professional driver community," said Ken Parent, president of Pilot Flying J. "These dedicated and hardworking individuals are on the road day in and day out to safely deliver the goods that keep our country moving.
"At a time when the industry is facing an immense driver shortage, we want to celebrate and bring attention to the significant contributions of professional drivers through the Road Warrior program," he added.
In addition to the Road Warrior Contest, Pilot Flying J has partnered with the American Trucking Association on an educational outreach program designed to raise greater awareness of the trucking profession and professional drivers' contributions to the nation's economy.
Based in Knoxville, Pilot Flying J has more than 750 retail locations in 44 states, roadside assistance available at more than 145 locations nationwide as part of its Truck Care program, 44 Goodyear Commercial Tire and Service Centers, and 34 Boss Shops.