06/20/2013
Propelling Alternative Fuels Forward
REDWOOD CITY, Calif. -- The U.S. fuels landscape is slowly changing. Although experts debate whether alternative fuels can truly make a dent in gasoline's dominance, there's no question ethanol, natural gas, diesel and electric are garnering more media headlines than ever before.
Retailer Propel Fuels Inc. believes in the future of alternative fuels and is devoted to being a better steward to the earth -- something it says its E85 and biodiesel offerings can provide. The company offers both fuels at 38 fueling stations in California and Washington State.
At 36 of the locations, Propel partners with existing gas station retailers to operate its renewable fuel pumps at their stores. These pumps, which Propel calls a "Clean Fuel Point," reside under a single canopy and are branded with the Propel name.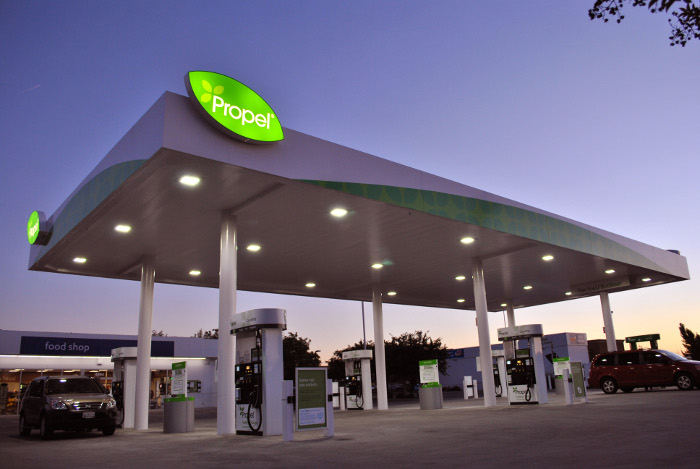 Propel pays rent to the station owners in return for the fuel sales from its pumps. Since Propel offers pay-at-the-pump technology, once a consumer turns on its pump to buy E85 or biodiesel, Propel -- not the convenience store operator -- accepts the payment and processes the transaction. All other fuel transactions at these 36 stores are handled by the c-store operator.
"The thinking in America is changing. The vehicles we have are changing as well. Those two things together helped with the idea to form a different type of fuel company that's focused on bringing renewable fuels to the marketplace," Chris LaPlante, director of marketing for Propel, told CSNews Online.
As for the other two locations, Propel owns them outright and has dubbed each a "Clean Mobility Center." Located in Fresno and Fullerton, Calif., they offer free air for vehicle tires, as well as recycling capabilities at the fuel islands. These Clean Mobility Centers even have a Bike Station where cyclists and other riders can tighten or fill up their tires and grab a drink before venturing back on the road.
These two locations do sell gasoline, continuing an offering provided by the prior owners of the locations. However, LaPlante said Propel offers customers the opportunity to carbon offset — a reduction in emissions of carbon dioxide or greenhouse gases made in order to compensate for or to offset an emission made elsewhere — following their petroleum purchase.
"We prompt customers right there to purchase a carbon offset at the pump," said LaPlante. "It costs a dollar to offset your tank."
Propel Fuels was founded in 2004 in Seattle. The company really progressed in 2008, though, when it moved to its current Redwood City, Calif., headquarters and began opening its first fueling stations.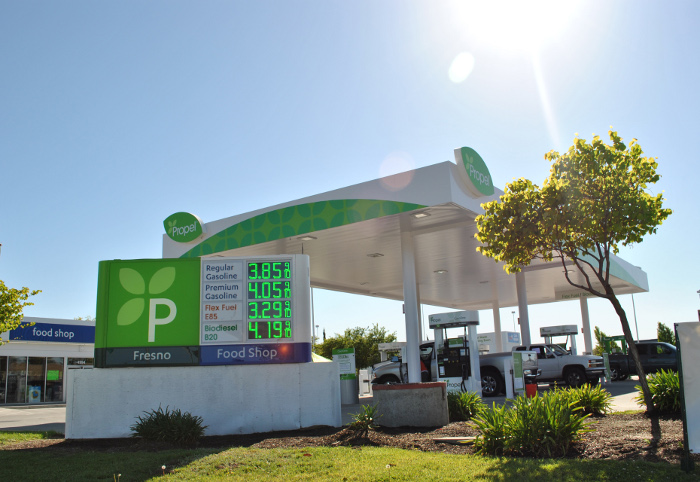 LaPlante acknowledges that selling E85 and biodiesel has its challenges. Regarding E85, only flex-fuel vehicle owners can fill up with the alternative fuel. Research has shown that flex-fuel vehicles only account for approximately 10 percent of the U.S. vehicle fleet.
"You have to find and market your product to alternative fuel vehicle owners," LaPlante explained. "That's a big part of our business and something we do really well. But it's also important to point out [that] 2012 was the best year ever for flex-fuel vehicle sales. Approximately 2.5 million flex-fuel vehicles were sold last year."
Biodiesel's biggest drawback is its pump price. Propel sells B20 -- a blend of 80 percent petrodiesel and 20 percent biodiesel -- to help offset the price per gallon. In addition, Propel's buying process and the relationships it has with alternative fuel producers allow it to avoid charging a premium at the pump, noted LaPlante.
Clearly, Propel's efforts are paying off. As CSNews Online reported in December, the company obtained $21 million in financing to help fuel its growth plans.
RAPID ADOPTION
Thus far in 2013, the retailer has added nine sites to its retail network, with plans to add several more soon.
"We conducted a survey recently," LaPlante said. "The one thing we really noticed is how rapid the adoption of renewable fuels is occurring. I think consumers have a better understanding of what renewable fuels are. Secondly, there is more brand recognition of Propel."
Propel doesn't release gallons sold or projections for gallons sold, but LaPlante confirmed that Propel is setting annual goals when opening Clean Fuel Points and these goals are often met within the first few months of operation.
"Our research shows that 50 percent of our customers are using renewable fuels exclusively," the director of marketing said. "The level of loyalty to the product is great."
Propel will continue to grow its business along the West Coast only. Although it has no immediate plans to do so, the retailer has not ruled out the possibility of licensing its business model to other operators in different parts of the country, according to LaPlante.
Looking ahead, he said Propel is also strongly considering offering both compressed natural gas (CNG) and electric vehicle fast-charging stations in the future.
"We have nothing to announce at this time, but CNG is something we are eyeing very closely," he told CSNews Online. "[Regarding] electric, there are now Level 3 charging units that can give you a half [charge] to a full charge in 15 to 20 minutes, so that possibility is intriguing as well."