Reflections & Learnings From Outgoing NACS Chairman Rahim Budhwani
Get great content like this right in your inbox.
Subscribe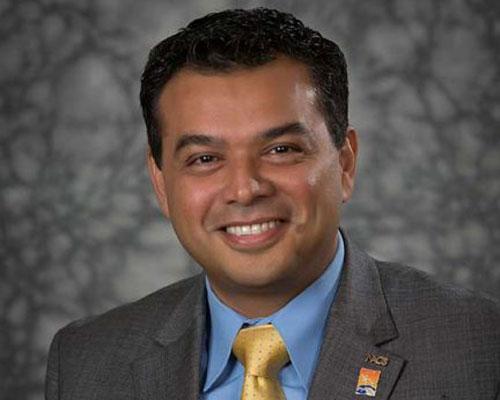 BIRMINGHAM, Ala. — Spending the past year as NACS chairman is not something Rahim Budhwani, CEO of Encore Franchises based in Birmingham Ala., would have predicted back in 2001 when he "accidentally" started in the convenience store business.
His company now operates 12 franchised locations under the Encore banner, but he started out as a computer programmer with a degree in engineering and became a silent partner in a convenience store in 2001. Right after he signed the contract, his partner decided to pull out and he found himself the sole owner with a 10-year oil company contract — and he still had to maintain his day job.
"I had to learn the c-store industry, so I would start my day at 4 a.m. to open the store with employees and work until I had to get to my day job, and I was going to school at night. I would get back to the store to close at 11 p.m. and it went on like this for eight months before I decided to dedicate all my time to the store," he told Convenience Store News.
His first interaction with NACS was a flyer that came to one of his stores. He headed to Nashville for his first NACSTech conference, and his involvement continued to grow as he became part of the NACS board and eventually chairman last year.
"Being a board member enhanced my scope of knowledge in the industry, and every time I traveled, did presentations at the NACS Show and attended events, I brought information back with me that I could share with everyone else," Budhwani noted. "It's about the whole industry taking a step forward, not just me. If everyone ups their game, it make the whole industry better in the years to come."
In the below interview, Budhwani reflects on the past year, and what lies ahead for 2018.
CSNews

: What has the past year as NACS chairman been like for you?
Budhwani: It's been an amazing experience and also very humbling. The NACS association has great respect that goes beyond our industry. NACS is admired across channels and is becoming a global entity moving forward. Being in this role as an ambassador of the industry, you meet so many people in all industries and we share a lot of the same issues.
CSNews

: Have you focused on any particular areas during your term?
Budhwani: As NACS is evolving, working toward what is next and becoming more global, we decided to change the logo to give the powerful message that we are now becoming a global entity, with events in Japan, South America, Europe, and all over the world.
I also focused on bringing all the ethnic trade associations out there onto one platform, and making NACS the platform for them. Now, we have a forum to talk about ethnic associations, and they are not left by themselves. That opened up a whole new chapter. I probably wrote the first paragraph of a whole novel to be written after me, but I am proud of that.
CSNews

: What has been your favorite part of being NACS chairman?
Budhwani: The most memorable experience was giving my acceptance speech for becoming chairman on the NACS Show floor with my mom, dad and wife sitting right in front of me.
CSNews

: What industry issues did NACS tackle this year, and what has been the outcome?
Budhwani: We have been very active in legislative processes because of issues like menu labeling and fighting those who are trying to take SNAP [Supplemental Nutrition Assistance Program] away from c-stores. That would present a big challenge for people who benefit from SNAP. We also had an important win with maintaining debit fees.
CSNews

: What are you leaving behind for the new chairman to take over?
Budhwani: The industry is currently evolving and, from my perspective, it will be important for NACS to stay in constant touch with small operators because they have the power to do things faster than anyone else, and they are silently changing the industry. We still have 96,000 of them out there.
CSNews

: What have you learned in the past year that you didn't know before starting this journey?
Budhwani: There is so much, I could write a book on what I learned. I gained this wider lens going to Tokyo and seeing how stores are run there and in Europe and South America. It's such a big difference. And there are waves of what happens there and then in the U.S., so it's about following that wave. They face similar challenges with labor and bringing families or workforces together. We all work long hours. When I started in my c-store in 2001, I worked 17 hours a day, and I still work that many hours a day.  
CSNews

: What surprised you about your role as NACS chairman?
Budhwani: I had expectations, but once you get into the role and see all the events you need to attend and presentations you have to do — I never expected the chairman had to do so much! It takes a lot of work and time away from your business. One of my colleagues said to me, "Don't start any more businesses this year," because every year I start something knew. He said, "Don't do it or you will regret it." And I do regret it!
Also, when people talk to you, you have to change your hat from operator to chairman, and I think that is very interesting. Instead of representing one or 10 stores, you are representing 146,000.
CSNews

: What do you think have been the biggest changes in the c-store industry in the past five years?
Budhwani: I think it's QSR [quick-service restaurant] and food offerings that have changed a lot in c-stores, along with more involvement in local communities. I still don't have an answer for all the acquisitions and mergers happening. It used to be big companies buying small companies, but now we have big acquiring big, which is fascinating. It's the same thing on the vendor and manufacturing side. It's a very interesting time for all of us.
CSNews

: Looking toward the future, what do you think the c-store industry will look like five years from now?
Budhwani: The future is bright. I'm an optimistic guy, and I think it will become more of a destination point, and that is what we need to work on. Each store needs to define itself as a destination, what they are known for, and why people are pulling into their lots.
Also, everything has become mobile and people want delivery, so I wouldn't be surprised if that expanded more in our industry. It's about how much we are in touch with our consumer, and each market is different. The market in Boston vs. Hawaii is different. Consumers have different wants and needs, but I think we are moving toward c-stores being the known local spots for people to stop. That is what we have to start working toward together as an industry, and I think in the years coming, you will see that trend. I'm already seeing it moving in that direction.