Retailers Tap Into Meal Kit Opportunity
Get great content like this right in your inbox.
Subscribe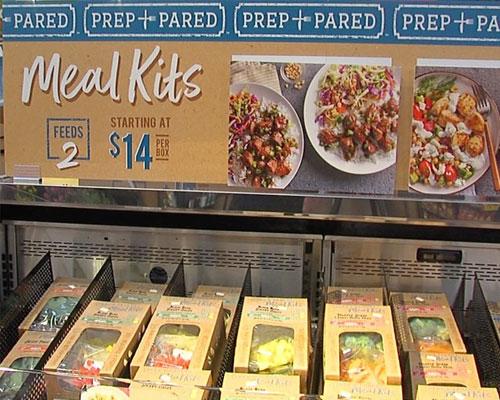 NEW YORK — Meal kits are no longer a niche of the U.S. grocery landscape exclusive to start-ups and online vendors. Traditional retailers are garnering success with a range of in-store meal kit offerings, capitalizing on consumers' want for fast and fresh, and pre-portioned ingredients for complete at-home meal prep.
Notably, in the year ended 2017, in-store meal kits generated $154.6 million in sales, posting growth of more than 26 percent year-over-year. For context, total brick-and-mortar sales for center store edibles — including grocery, dairy and frozen foods — dipped 0.1 percent last year to $374 billion, according to new research from Nielsen.
In total, 9 percent of Americans say that they've purchased a meal kit in the past six months (10.5 million households) and 25 percent of consumers say that they would consider trying a meal kit in the next six months (30 million households).
Of the 9 percent who have tried a meal kit, 6 percent have purchased them exclusively online.
Digging into what meal kit buyers look for in the offerings they purchase, almost 60 percent say value for the money is extremely important, and almost half (49 percent) say low-cost items are important. In terms of what they experience across the meal kit landscape, 56 percent of consumers disagree that meal kit services are affordable for everyone.
Nielsen's latest analysis of its "What's Cooking" consumer segmentation found that more than one-fourth (26 percent) of meal kit users classify themselves as "gourmet cooks." Comparatively, only 16 percent said they consider themselves gourmet cooks, highlighting the notable appeal of meal kits to this consumer segment. On the flip side, 15 percent consider themselves frozen foodies, yet only 9 percent of frozen food consumers are meal kit users.
In looking at the various food channel options consumers have to choose from, sales across the mature options — like restaurants and traditional food outlets — have trended in line with one another over the past two years. Some of the newer options, meal kits, digital delivery and e-grocery, are bucking the norms, with pure-play meal kits garnering three times the growth of all other channels, the market researcher found.