Rogers Petroleum in East Tennessee Celebrates 30 Years in Business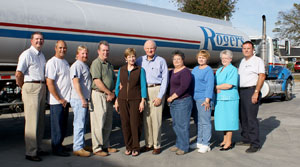 MORRISTOWN, Tenn. -- This year marks Rogers Petroleum's 30th anniversary. From five employees and two million gallons of gas sold to 300 employees and 178 million gallons of gas sold, 30 years later, Rogers has become the largest petroleum marketer in East Tennessee.

In celebration of three decades of service Rogers is giving $10,000 in academic scholarships annually to employees and their families.

"We appreciate the support of our customers, suppliers and the communities in which we operate, and we are very pleased to be able to offer the $10,000 in academic scholarships to employees and their families for helping us reach the 30-year milestone for our company," Don Rogers, Rogers chairman said in a statement.

Rogers Petroleum has three operating divisions: fuels distribution, the Zoomerz network of 19 convenience stores and four Subway restaurants and southeast lubricant distributor, LubriCorp. Rogers' customer base expands beyond Tennessee and includes more than a dozen other states including California, Florida, New Jersey and Texas. Corporate customers include Eastman Chemical, Bechtel Jacobs B&W Y12 and Rogers also sells fuel to independent c-store marketers, the company stated. Rogers also markets fuel brands including ExxonMobil, Marathon and Citgo as well as lubricant brands including Shell, ExxonMobil, Quaker State and Castrol, the company added.

Rogers is also an active member of the East Tennessee Clean Fuels Coalition and offers ethanol, E85 and B20 fuels. "We have a large, state-of-the-art bio-fuels blending terminal in Knoxville," said Rogers in the statement.

Rogers Petroleum also supports charities ranging from United Way, St. Jude's, March of Dimes and Boys and Girls Club, among many others. "We believe strongly in giving back to the communities in which we live and operate," Rogers said. "We believe in doing the right thing for the right reason. The most effective way to do that is to invest our contribution dollars and volunteers in strategic efforts to help those less fortunate."

Rogers also noted the growth of the company can be attributed to its business model of integrity, customer service and diversification.

For more information on Rogers Petroleum Inc. visit www.rogerspetro.com.