Rutter's Farm Stores Has (App)titude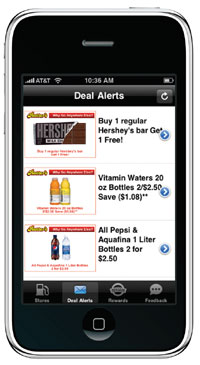 YORK, Pa. -- In 2009, when most convenience store companies were deciding how to tackle the growing importance of social media and the mobile consumer, Rutter's Farm Stores introduced its first mobile application (app) for the iPhone, offering customers a store locator, as well as individualized store information such as hours of operation and gas pricing. The company also became the first c-store retailer to offer individual websites for each store location, and eventually, the first to incorporate a loyalty program into its mobile app.
Today, Rutter's apps are available for iPhone, Android and Blackberry devices, and offer real-time gas price information for every store, customer coupons and an integrated loyalty program. The company also launched its first gaming app, "Spin to Win," in May.
"The decision to enter the mobile market goes back quite a few years," Scott Hartman, president and CEO of Rutter's Farm Stores based in York, Pa., and operating 56 stores, told CSNews Online. "Years ago when I was NACS Chairman, I visited members in Asia. When I was in Japan and South Korea, I saw a lot of technology, particularly mobile, already implemented over there."
In his closing presentation as NACS Chairman, Hartman spoke about the mobile technology trend of what was on its way into the c-store arena, and he decided to be ready for it when it arrived. "For us, it was waiting for the mobile technologies to catch up here. Five years ago, there wasn't even an iPhone," he noted.
As a result of the company's efforts, Convenience Store News awarded Rutter's its 2011 Outstanding Technology Implementation Award for its mobile app innovation, and presented the award during a cocktail reception at this year's NACStech Show in Las Vegas.
App Offerings
Rutter's partnered with GasBuddy using its OpenStore digital marketing solution to create the company's mobile app, launch the store-specific websites – all controlled from the headquarters office – and integrate its loyalty program into the app.
"We were the first c-store customer for GasBuddy and have been working with them on future designs and applications, so it's been a joint development effort," Hartman explained. "We keep taking ideas and putting them into the apps."
One of these ideas was incorporating the Rutter's Rewards loyalty program into the app so customers could see their transactional activity and what the gas price would be for them if they choose to redeem a reward, said Hartman. The company continues to release updates to the original version, as well as expand platforms beyond Apple's iPhone. Hartman said Android has now surpassed the iPhone in number of downloads.
In addition to loyalty program access, customers can receive coupons via the app through "deal alerts." By clicking on the "Use it Now" button, a coupon appears for a short amount of time and can be scanned at the register inside a Rutter's store. In order to scan the coupons, scanners needed to be upgraded at all locations, Hartman explained.
"We send weekly offers and customers can allow themselves to receive alerts [when] the offer is available, but they can also find it in the app," he said. "People are definitely using them, and we get a lot of positive feedback. There is an area inside the app for people to leave feedback, as well as on our website."
Customers can also sign up via the app or website for e-mail or text alerts, allowing Rutter's to market to customers on the go. And the latest advancement, which debuted in May, is Rutter's Spin to Win gaming app for the iPhone. The virtual game offers users 20 free spins each day with the chance to win free or discounted products at Rutter's stores, or an additional spin.
"The launch went really well, and we are getting requests from customers who want it for the Droid," Hartman said. "It has multiple customer touchpoints involved with it, and the primary purpose is to get customers to the app every day."
Additionally, the game in only available to Rutter's Rewards members, offering more incentive for customers to join the loyalty program. The company is working on a version for both the Android and Blackberry.
"I think when a c-store decides to do these things like a mobile app, it has to be very strategically driven," Hartman offered. "People think they can do them without a strategy, but you really need a strategy and an organization built around it."
The biggest benefit Hartman has seen from the company's mobile marketing approach is the ability it gives Rutter's as a brand to interact with customers, which is why the retailer is already working on plans for the future.
"We are trying to make the apps simple to use, while offering a value equation for the consumer," he said.