Shell Launches 'WINsdays with Kurt Busch' Promotion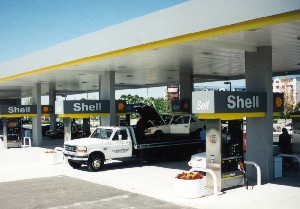 HOUSTON -- Motorists can save more on fuel with two new Shell $aver Card offers. Now through April 30, new cardholders will be rewarded for activating with savings of 10 cents per gallon, while all cardholders will have the chance to save 22 cents per gallon as part of a special racing promotion -- "WINsdays with Kurt Busch," driver of the No. 22 Shell-Pennzoil car.
The Shell $aver Card is a non-credit payment product exclusive to Shell Oil Products US that acts like a debit card by linking directly to cardholders' checking accounts and offers savings at the pump.
All new cardholders will receive savings of 10 cents per gallon on every grade of Shell Nitrogen Enriched and Shell diesel fuel through April 30. After that, cardholders will continue to enjoy everyday savings of two cents per gallon on all Shell-branded fuel purchases. Furthermore, consumers who activate a Shell $aver Card before April 30 will receive a limited edition racing-themed card featuring the Shell-Pennzoil Car with an imprinted autograph by Busch.
Under the new "WINsdays with Kurt Busch" promotion, if Busch wins a points race during the 2011 season, cardholders will receive a savings of 22 cents per gallon that will be applicable when they purchase Shell Nitrogen Enriched gasoline and Shell diesel the Wednesday following his win -- now known as "WINsday," according to the Houston-based oil company.
The 2011 NASCAR season begins this Sunday. A total of 36 points races will be run through Nov. 20, which means Shell Saver Card holders have 36 chances for savings throughout this year. The enhanced savings will automatically register at the pump on a "WINsday."
Shell Oil Products US is a subsidiary of Shell Oil Co., which has a network of approximately 6,100 branded gasoline stations in the Western United States.