10/31/2018
Six Highlights From Chevron's 2018 Retail Convention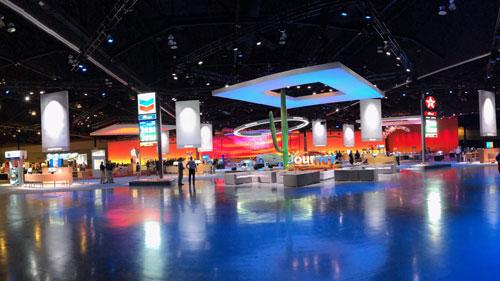 PHOENIX — Chevron intended to give its marketers and retailers a gathering that was worth the wait. With the theme of "Our Journey," the company held its 2018 Retail Convention in Phoenix in early October, marking its first national meeting since 2009.
In addition to presentations from its executive leadership team, the event featured a Marketplace that showcased "all things Chevron" — including stations devoted to Techron, credit cards and new technological innovations. The teams from Chevron's ExtraMile and Fuel Your School divisions were also on hand.
The conference included presentations from outside speakers as well. Economist Ron Insana offered his perspective, while honored special guest President George W. Bush spoke off the cuff to a captive audience.
Here are six of the top quotes and related news items heard at the show:
"Oil and gas is expected to account for about half of global energy consumption."
— Dale Walsh, Chevron President, Americas
In his State of the Industry report, Walsh relayed that oil and gas accounted for 54 percent of global energy in 2016; in 2040, it is projected to account for nearly that same amount — 52 percent.
Having spent more than three decades at Chevron, Walsh views the fuels and lubricants business as "always changing, and we change along with it."
Product advancements that allow getting 45 miles to the gallon only help to improve business, he said. "[Advancements] improve the lives of the people we serve, and we have always been willing to evolve and meet the needs of our customers. … Reliable, affordable energy is essential to support progress. We believe our journey never ends."
Walsh reported that Chevron has recently delivered strong performance:
In 2017, it rebounded with more than $9 billion in earnings;

Its U.S. downstream operations earnings tripled in 2017 compared to 2016;

Over the past five years, it invested almost $3 billion in U.S. refineries; and

Globally, Chevron has invested more than $400 million in education since 2013 through programs like Fuel Your School.
"ExtraMile recently topped 800 stores and will close in on 900 in the near term. When we get to 1,000 stores, it will put us in the top 10 c-store chain scale in the U.S., with lots of room to grow beyond that."
— Brant Fish, Chevron Vice President, Americas Products West
Since Feb. 1, 2018, ExtraMile Convenience Stores LLC has been operating as a joint venture between Chevron and Jacksons Food Stores. Fish said the partnership was formed to strengthen and expand the ExtraMile retail brand, which is "integral" to the overall Chevron brand.
"We have a front court/backcourt customer experience that is second to none in the industry and in the West," he stated. "Very difficult for our competitors to match."
Fish specified three things that marketers and retailers can count on from Chevron, no matter the industry climate:
Commitment to profitable growth for the retail business;

Commitment to being "a reliable supplier in the industry," as evidenced, in part, by Chevron's major investment in refineries; and

Commitment to maintaining a premium branded fuel position with the "iconic" Chevron and Texaco brands.
"Our industry is facing many, many challenges … but together, we represent an indispensable industry and we're going to be around for a long, long time."
— George Wall, Chevron Vice President, Americas Products East
Wall also told attendees of the national convention that, "We are a noble industry and should stand proud and tall on a world scale."
He assured the audience members that "you can count on us to be a strong and reliable supplier. We are here for the long haul, and we are committed to innovation, technology and we're committed to retail."
"The fracking revolution in the U.S. is extraordinary. We are the largest producer of crude oil in the world, and we've not been in this position since 1973. Two years ago, we surpassed Russia in natural gas."
— Ron Insana, CNBC senior analyst and commentator  
Other key points Insana made in his economic outlook were:
The cost of natural gas is so low domestically; it is much more expensive and unavailable in Europe.

The U.S. will be a very aggressive exporter in liquified natural gas and crude oil, which has begun shipping to the Middle East.

The nation is seeing something of a manufacturing renaissance, with companies like Boeing and Airbus opening manufacturing facilities in the U.S.

The coming rapid evolution is moving away from carbon-based energy and toward things like autonomous vehicles.

Since July 2009, the U.S. has had some moments of uncertainty that shook certain markets, but not the economy, which has grown steadily in the last year or so.

Unemployment is at the lowest rate since 1969.

Most economists assume the next recession will occur in the next election — 2020 or late 2019. Expect there to be a lot of fun in the political landscape over the next two years.
Insana also addressed the technological revolution underway. "We are in the third technological revolution and it's only just beginning," he said. "Almost 100 percent of important new technologies affecting our lives have occurred in the last hundred years. The technology used to land a man on the moon is equivalent to a musical greeting card. Phones are a billion times more complex; they are full-scale computers."
"We're looking at emerging technologies and putting together solutions that can address some of the pain points for consumers at the stations."
— Maria Mello, Chevron Business Technology Innovation Manager
Chevron is currently focusing on two emerging technologies: a mobile application that consumers can download and use to pay for fuel and car washes; and connected cars, which in a similar experience, consumers can use the dashboard of their vehicle to authorize the payment and activate the pump, according to Mello.
The company officially announced and demonstrated both innovations at the convention, partnering with PayPal for the first, and Honda Innovations for the second.
In the case of the PayPal alliance, the enhanced transaction experience at the pump will offer consumers an option to pay for fuel and car washes with their PayPal account within Chevron's new mobile app, starting in early 2019.
The goal is to provide consumers with a more interactive, dynamic and informative experience, while helping reduce the time they spend at the pump. Once the consumer downloads and registers on the app, the idea is to do a couple of steps on the phone, specifying the pump number, adding a car wash and choosing the payment method — either PayPal or Chevron's private label Advantage payment.
That is phase one. Phase two will be to draw more foot traffic inside the store through awareness and promotional offers whereby the customer could potentially pay for their coffee and fuel at the same time. Phase two also will be about preordering and paying for food while waiting at the pump. Mello said the company is targeting the second quarter of next year for phase one and eyeing early 2020 for phase two.
In the case of the Honda Innovations collaboration, the customer experience happens at the dashboard through a connected car in-vehicle payment. Drivers will be able to pay for fuel and make c-store purchases from their vehicle's dashboard. Upon parking near the pump, the driver will open the in-vehicle app from the dashboard, select the pump number and the payment method of their choice, and then start fueling (outside the car).
Both of these new payment experiences cater to "a certain segment of consumers who are busy and don't want to spend a lot of time at the station; also to a generation of consumers who were born and raised with a smartphone and are used to transacting with the world through a smart device," said Mello.
"We're both great BS artists."
— Keynote speaker President George W. Bush (joking about President Bill Clinton)  
Sitting on stage in high-back chairs, the 43rd President of the United States and Joe Naylor, Chevron Vice President, Policy, Government and Public Affairs conversed as if alone together having a fireside chat.
Judging by the audience's laughter, Bush could have been doing a comedy bit. He spoke about his political family, his painting, his presidency, and past and current affairs in a very relaxed and often comedic way.
In a serious moment, he shared that he read the bible every day while in office. "I found it unbelievably calming," he recalled.
Earlier that morning, before concluding his session on the economy, Insana offered a personal anecdote involving the president, stating: "Contrary to the way Bush was portrayed, I found him to be curious, engaging and smart enough to surround himself with sage advice. He is one of our most personal presidents, and one of the most misinterpreted leaders in modern times."