Snyder's of Hanover Builds Buzz in Busch Gardens Contest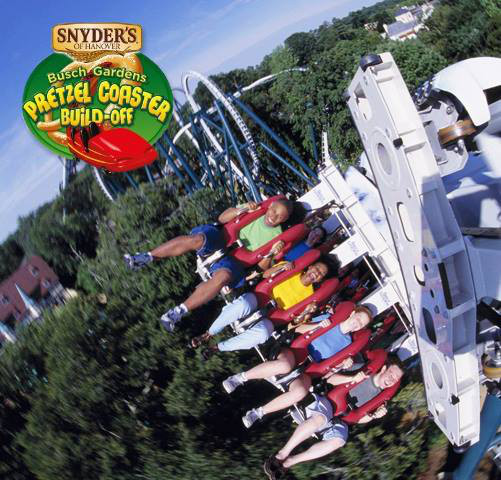 HANOVER, Pa. – Snacks and thrills will collide on July 11 when finalists in the 2013 Pretzel Coaster Build-Off compete to build the best replica of the award-winning steel roller coaster Alpengeist with Snyder's of Hanover's pretzels at Busch Gardens Williamsburg. The six contestants will go up against 2012 winner Maggie Woodward armed with a few test rides on the coaster, a pretzel assortment, glue and their imaginations.
"On behalf of everyone at Snyder's of Hanover pretzels and in the spirit of the German villagers whose stories about a legendary snow beast inspired Alpengeist, we'd like to tell the finalists: Gratulation! Viel Glück!" said Bob Gould, marketing manager for Snyder's of Hanover.
Earlier this year, Snyder's invited East Coast residents from Connecticut to South Carolina to build a pretzel coaster and submit a photo online. Pretzel fans voted in Brandon Venery of North Carolina as the "People's Choice" finalist, while a judging panel made up of Hanover and Busch Gardens Williamsburg executives selected the remaining finalists based on creativity and originality: Jennifer Westcott of New Jersey, Michael Toscano of New York, and Justin Heiser and Spencer McMillin from Virginia.
The finalists and their families will travel to Williamsburg, Va., to compete in the final round and spend a few days at Busch Gardens Williamsburg and Water Country USA. The grand prize winner will receive a four-pack of two-year, 2-Park passes for Busch Gardens Williamsburg and Water Country USA, as well as a year's supply of Snyder's of Hanover pretzels, a Snyder's of Hanover gift basket and ball cap. The total estimated retail value of the grand prize is more than $1,300, according to Snyder's.
The finalists' pretzel coaster creations are viewable at www.pretzelcoaster.snydersofhanover.com.
"This annual competition is becoming a Busch Gardens tradition. Watching these pretzel creations come alive adds to the fun guests can have when they visit the park," said Busch Gardens Marketing Director Scott Clemons.